Features
Track, measure, analyze and compare social videos and profiles to fit your needs.
Whether you're a video creator, marketer, music label, brand or just a fan, you can track, compare and analyze any social video or profile on Facebook, Instagram or YouTube.
Daily video and profile tracking
Our database consist of millions of social videos and profiles, that we update on a daily basis to present you with the most valuable and transparent data.
Watch Social Video Analytics Overview
Transparent metrics
You can identify everyday views number growth, likes, dislikes, comments and other engagement metrics gained either on tracked video or a profile
Profile's videos and posts analytics
Analyze profile's videos and posts. Sort and filter them by engagement metrics, publish time, keyword, etc.
Create Smart Folders and add lists of your favourite content, tracked videos or profiles.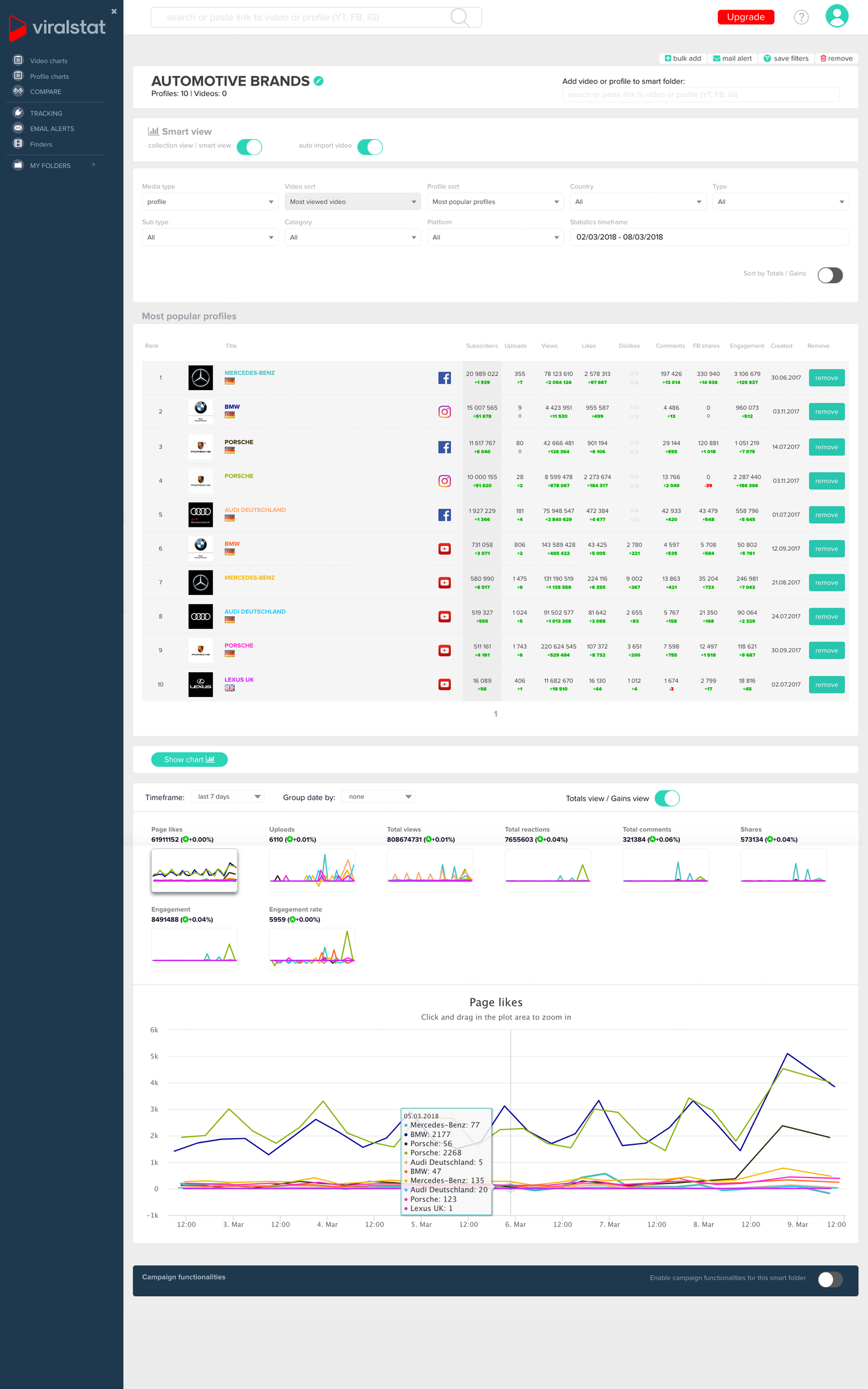 Smart Folders
Need to sort your data in a specific manner, to keep your stuff sorted and compared in one place? Add as many Smart Folders, as you wish, sort, add and remove entries as you desire. Reachable, sorted and most important: done your way.
Interested in a particular industry? Create a Smart Folder containing of a videos or profiles within that branch. Have your favourite music genre? Make a Smart Folder with your beloved songs. Looking for influencers to cooperate with? Just make your lists and track their performance.
Create list of videos or profiles to be compared. Create your top lists or your favourites.
Watch Smart Folders Overview
Campaigns
Enjoy the convenience of having the ability to change every Smart Folder to a Campaign: compare all videos in campaign, invite your Client to see campaign's performance, comment in real time, share your ideas with team members or check how many paid views were delivered against organic views.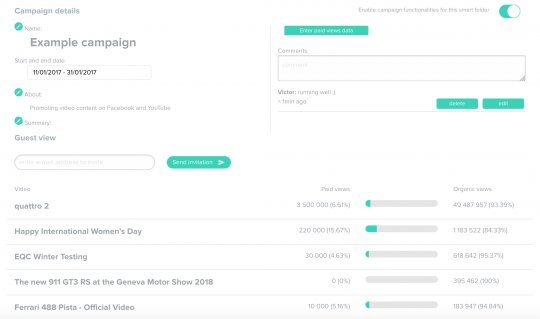 Find viral videos, trending creators and influencers to work with in no time.
Top Viral Video Charts
Top Social Profile Charts
Check daily top video and profile charts sorted by engagement, countries, categories and social media platform its hosted on.
Select, whether you'd like to see most viewed, most commented on or even most disliked videos or profiles yesterday, this week or whatever time-frame our database reaches to.
Compare
Compare any video or profile simply by adding them to our tool. Compare YouTube video with Instagram or Facebook video if you like. Mix and match according to your needs. Results of this comparison are presented in a convenient table in a clear and transparent way – side by side.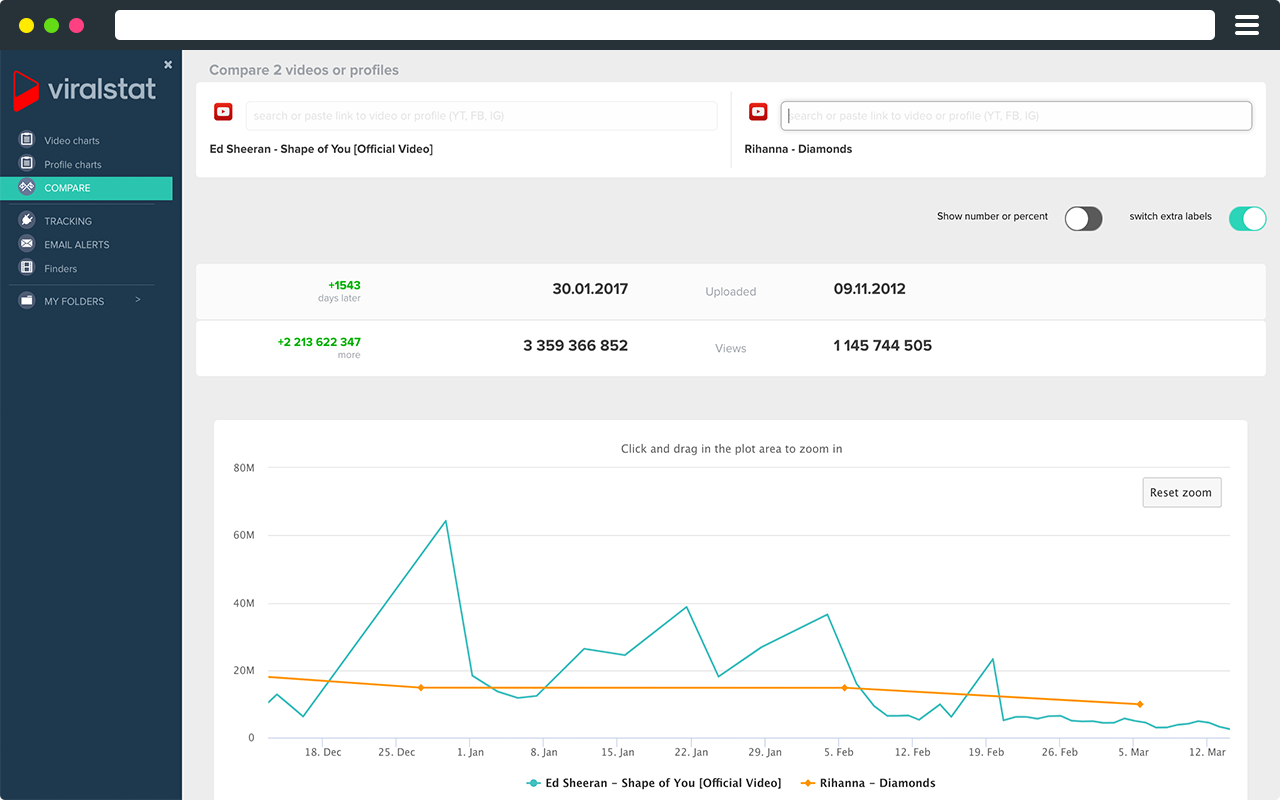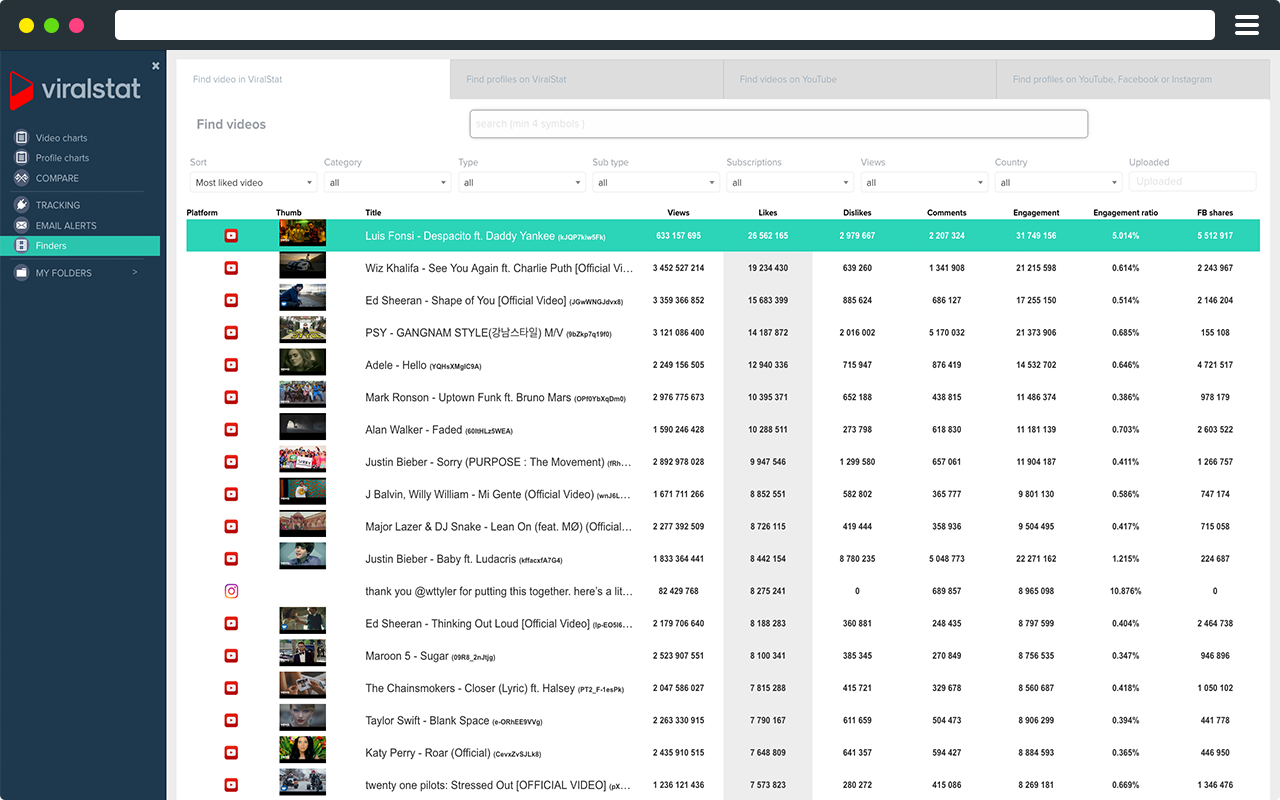 Videos and Profiles Finder
Search for any profile or a video you would like to. Filter by keyword, country, category, subscribers count, views amount, engagement or date added.
Find your competitors and benchmark with them, discover new influencers and creators for cooperation.
Email Alerts
Would you like to be notified about daily statistics of a certain video, profile, summary of folders or charts right to your mailbox? Or get an notice, whenever video appeared onto YouTube Trends? Simply select the desired alerts and we'll send them to you.
Auto Add
If we don't have the video or profile, once you entered it for search, we will add it to our database and track it from now on.
Bulk Add
Import lists of videos and profiles to a Smart Folder in bulk.
Videos Auto Import
We keep up with current trends and check every profile for new videos to keep up with fresh video content.
Export Data
Export .XLS reports of any statistics tables data for your needs.
Video's comments
See the video's comments, also see quick stats of commentators themselves (their subs, uploads and video views count).
Team Members
Add team members to your account.