Keeping an eye on hundreds of video creators performance across various social networks seems like a never-ending headache?
Heads up!
Collect all your monitored social creators' profiles and uploads into specially designed folders and get clear cross-platform engagement analysis on one automatic dashboard. No more manual data entry or guesswork, who delivers the best content!
Sign up for trial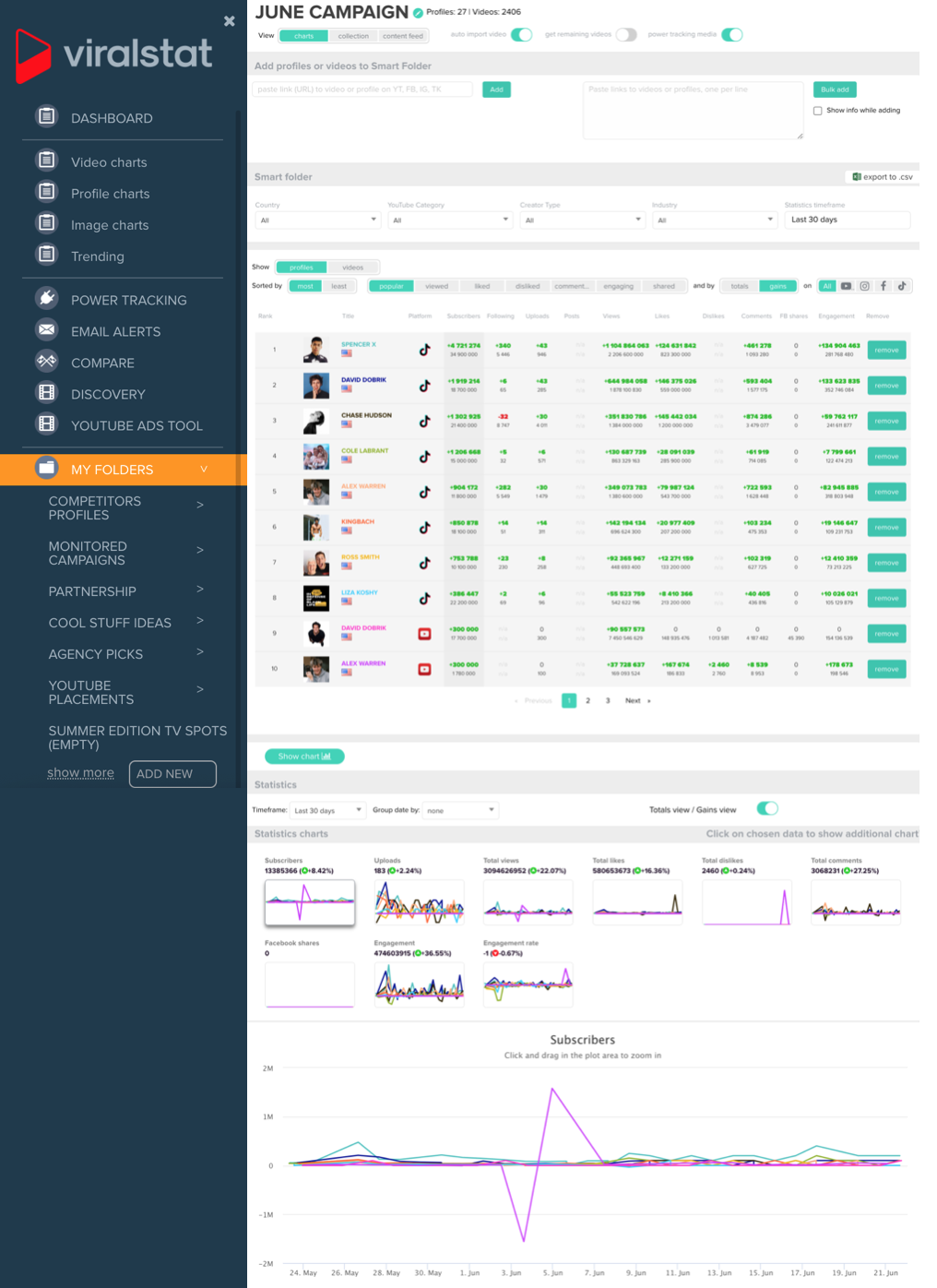 Industry reports without lifting a finger

Thousands of profiles' and videos' most accurate performance on one dashboard
Own growth metrics
Measure the exact growth of all managed Facebook, YouTube, TikTok and Instagram channels, compare which uploaded videos work best onto which platform. Decide what to produce less and what more off.
Competitors benchmark
Discover best performing content of your industry competitors. Analyze all activity on their managed creators' profiles with in depth statistics insights – see which videos are most appreciated by the audience you aim to win over.
Industry monitoring
Stay ahead of your direct competition by monitoring the whole industry in one automated dashboard. Gather all the most successful creators profiles, local and global leaders of any niche, and watch how they build their authority.
Performance reporting
Create individual folders for each of your clients and monitor their ongoing progress. Compare the performance of each with one another and make data-driven decisions of where it needs tactic improvement.
Save hours on manual search
Is your boss expecting you to know what happened around all of the monitored social channels overnight, even thou you just clocked into the office? And deliver freshly baked report like the very next hour? Be ready next time and impress him with the most up to date performance industry analysis before he finishes his coffee!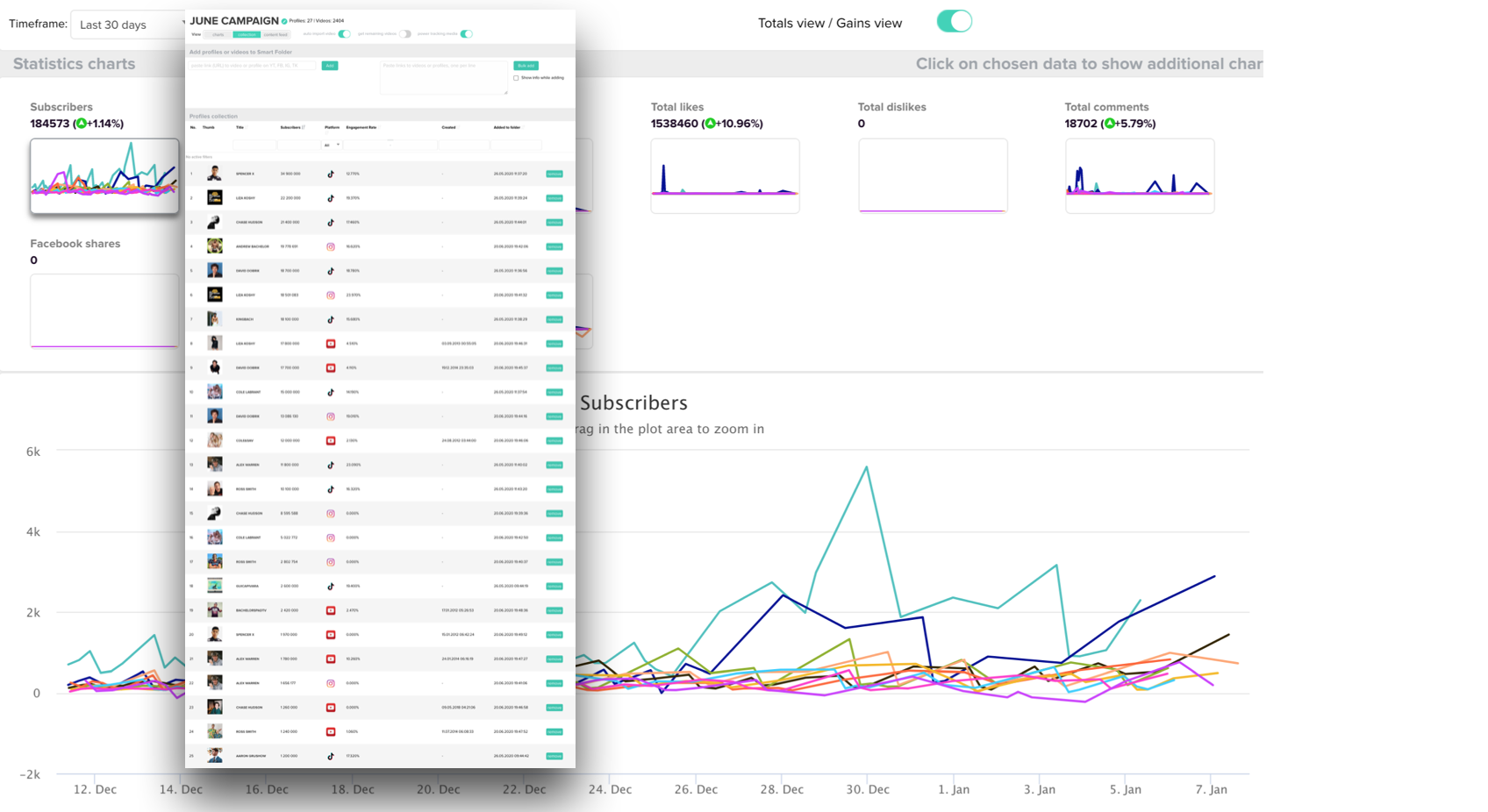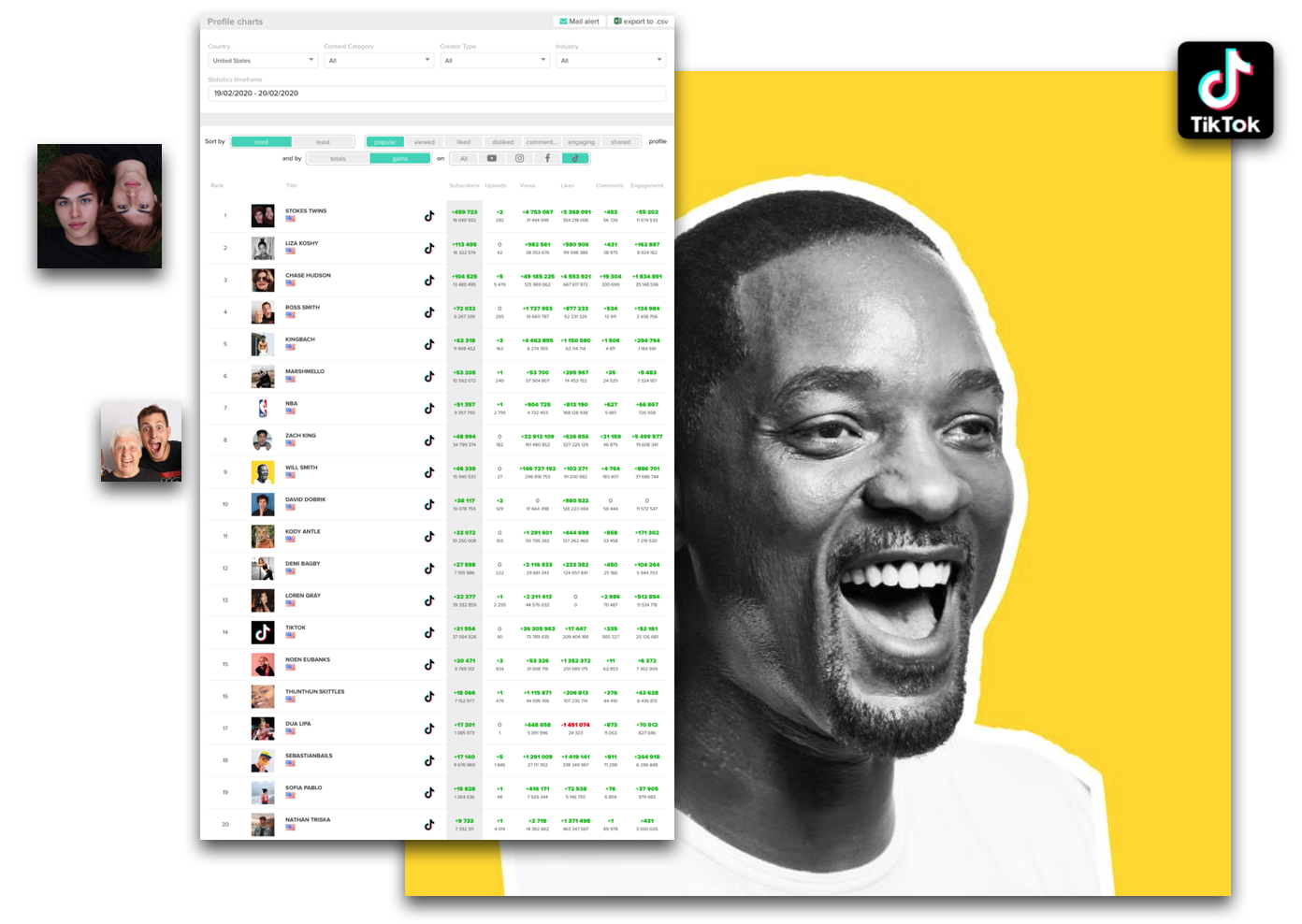 Master the time management
Forget the everyday chase after metrics updates of tens or even hundreds of social videos and channels. Collect all tracked items in one place and have all the data updated automatically, ready to use anytime you need it
One place for all your stuff
Do you work with artists, and they upload videos to their channels like crazy? Or cooperate with Influencers and want to know what they say about you to their audience? We've got you covered: folders automatically acquire new uploads and so you have all vital data at your fingertips. Create folders of what you want: favorite creators, competitors, industry leaders, inspirational videos, whole video series – whatever you want to keep the track of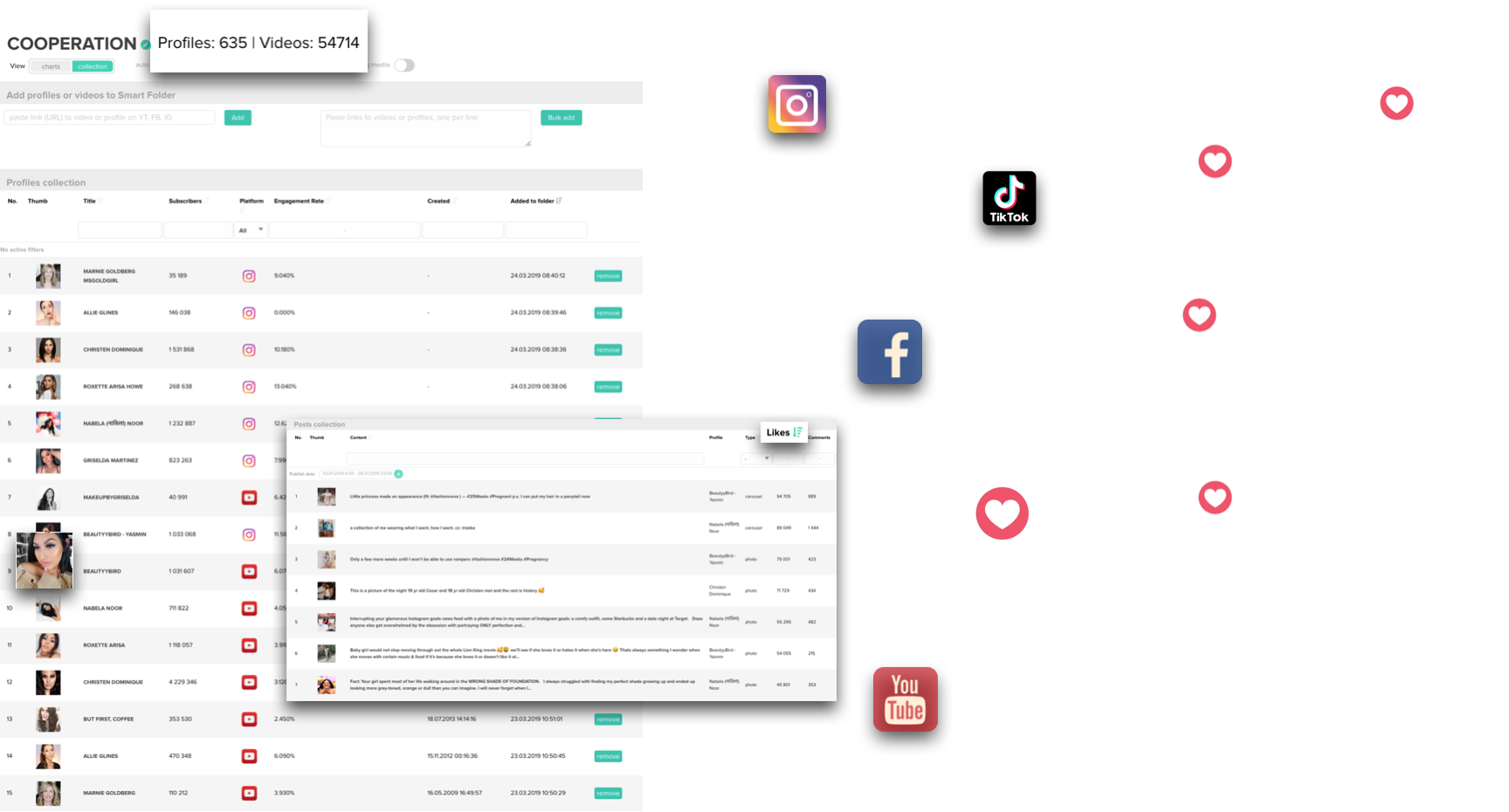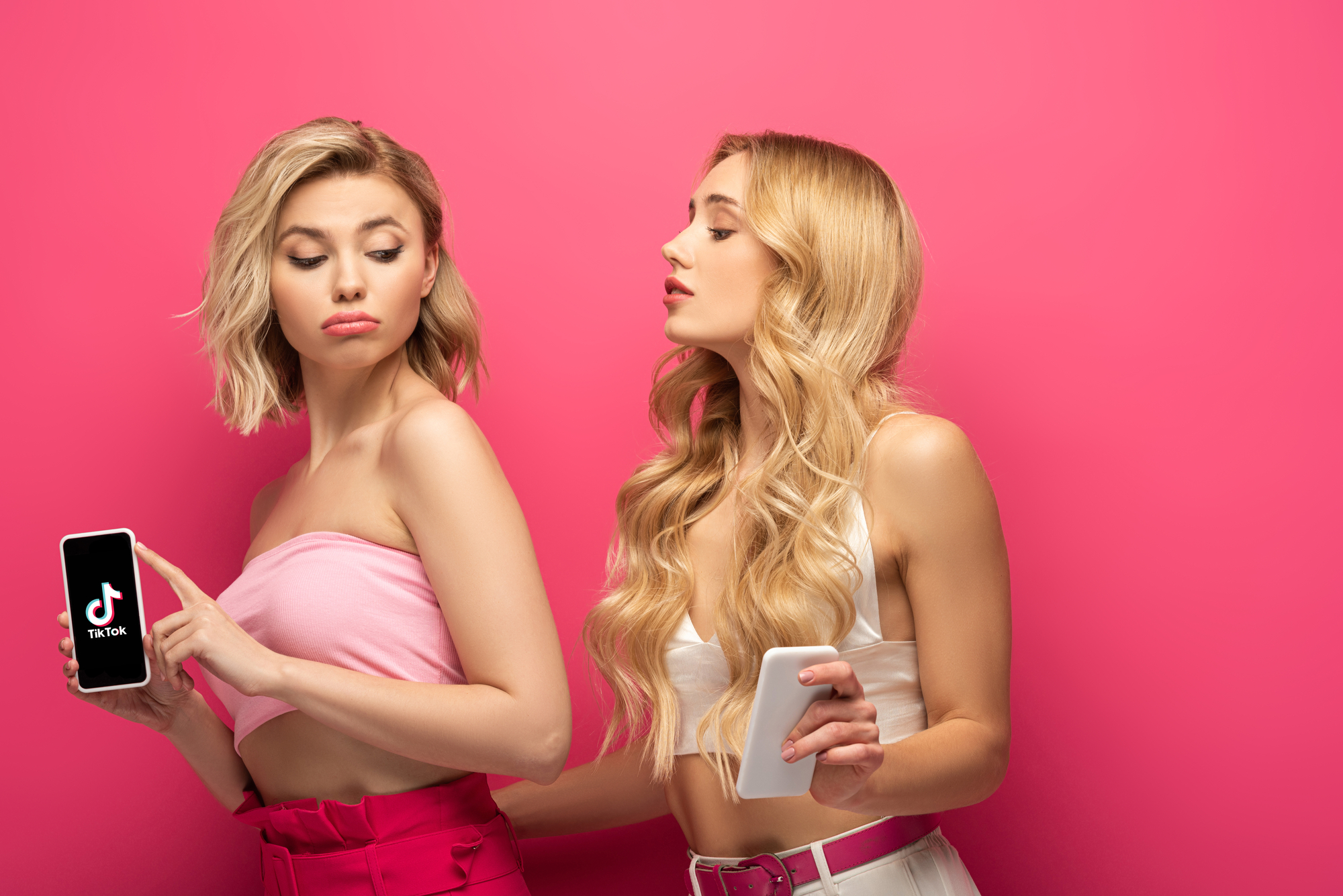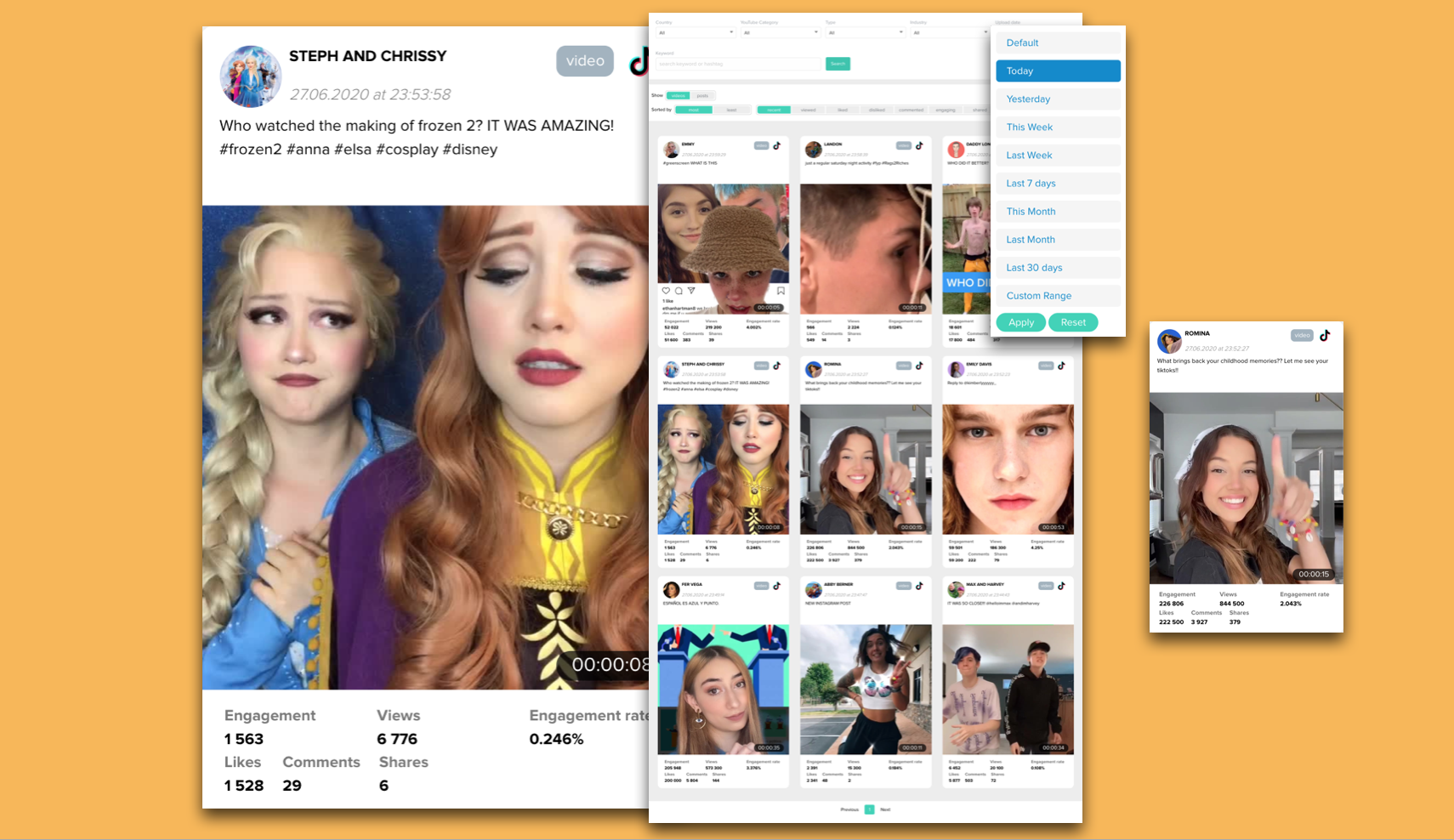 Throw your spreadsheets away
No more boring data input
Monitor all creators activity you work with. Compare the performance of Influencers you partner or plan to partner with and verify their actual engagement, instead of just taking their followers base for granted campaign's success

Social strategy benchmarked
Collect all monitored industry leaders channels and videos from YouTube, TikTok, Facebook and Instagram and monitor their cross-platform success. Capture the most converting content, communication mistakes they're making, and compare with your/clients social marketing efforts. See where you should revise your content to make it more appealing and create industry reports in minutes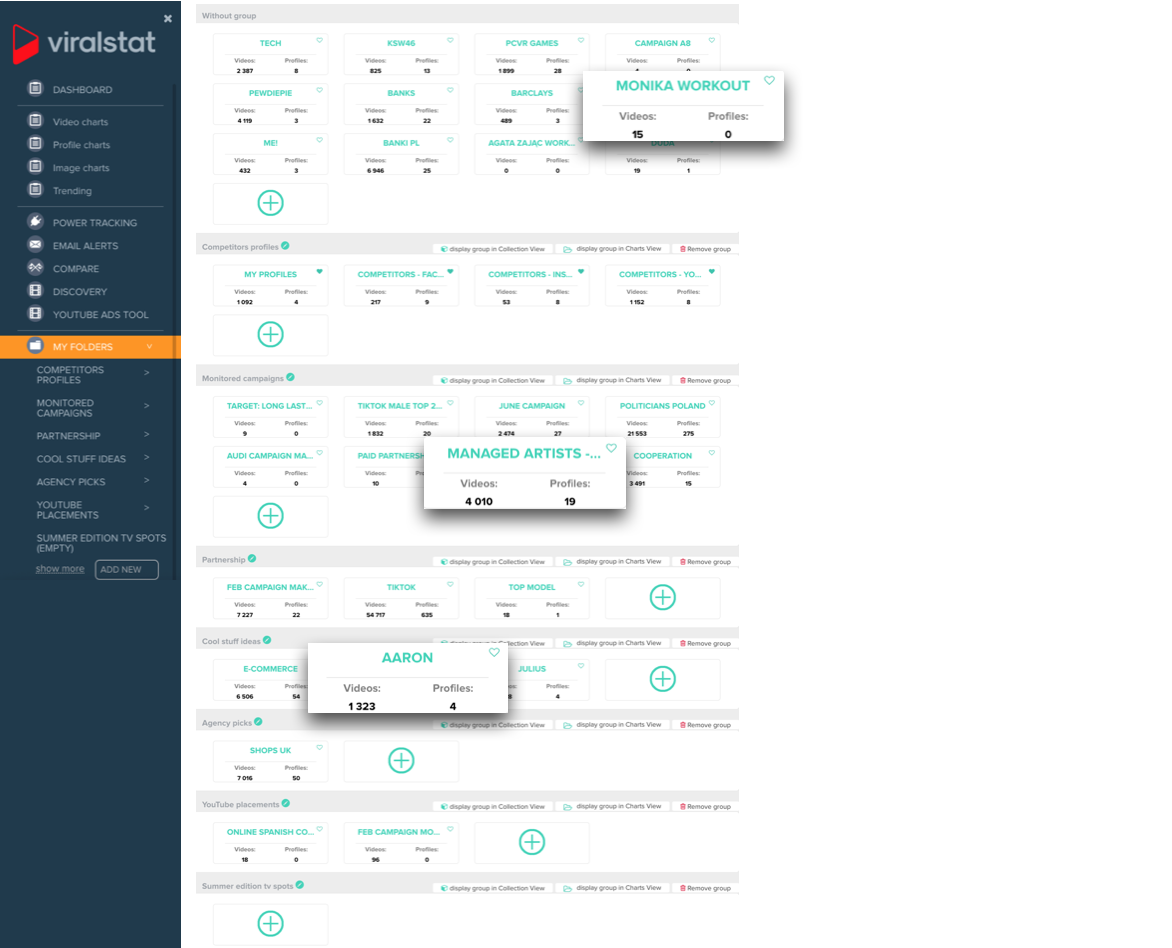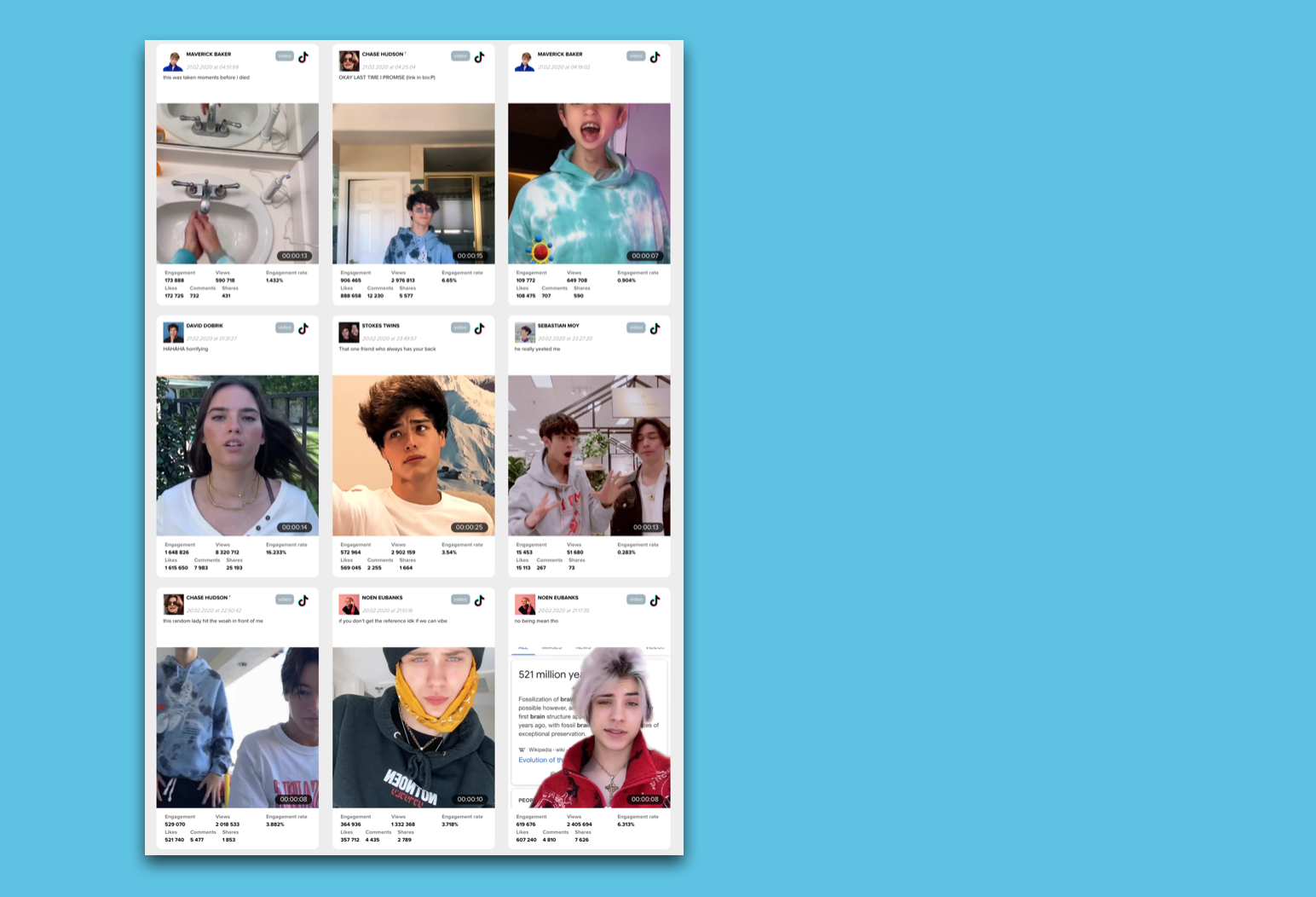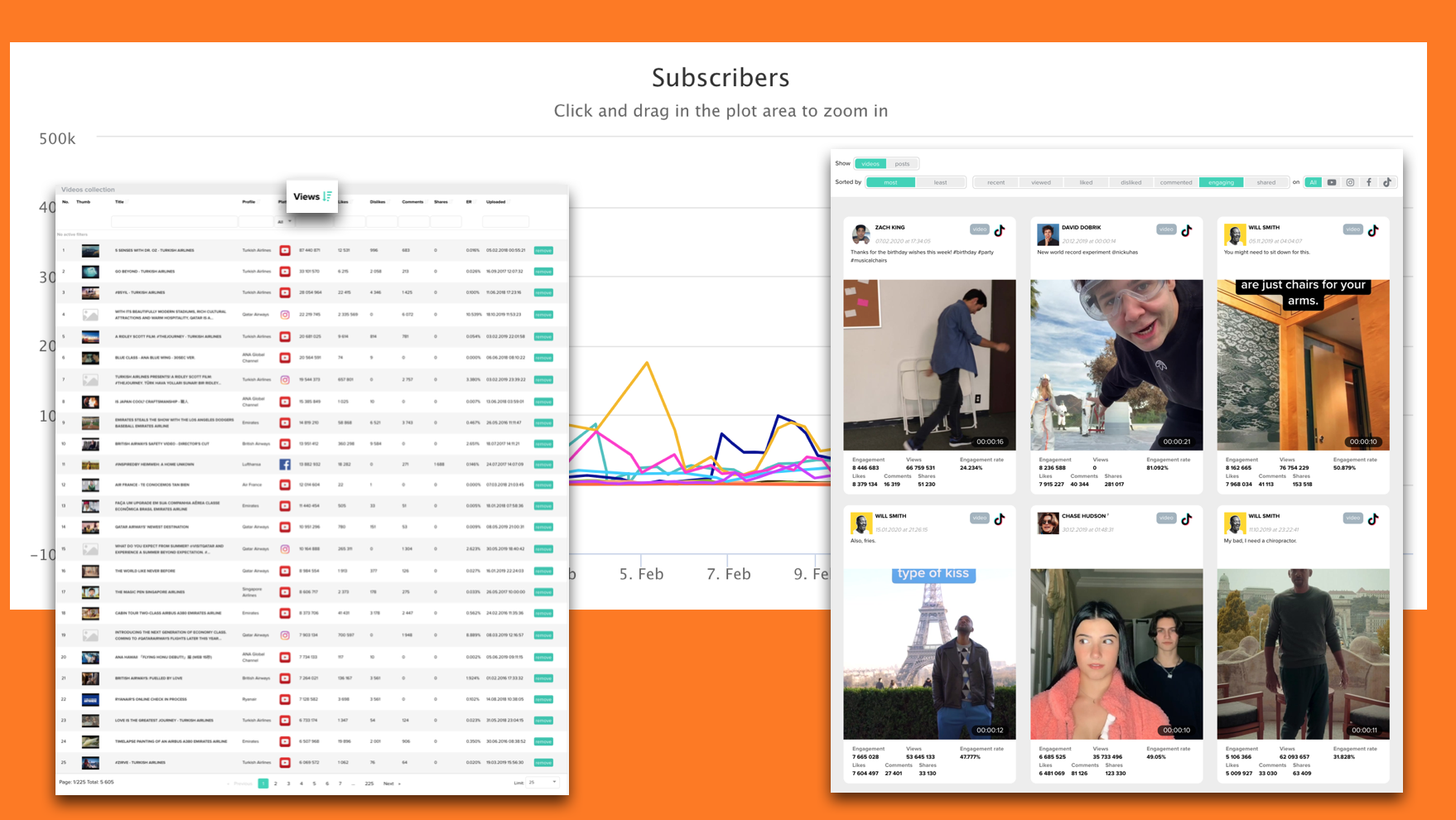 Charts, collection and content feed
Have fun analyzing statistics: it doesn't have to be about dull numbers all the time. Make a cross-platform growth comparison, sort your videos and profiles by various factors, like total followers and views count, or filter out the most popular topics among all tracked items. See exactly what content works the best

Get all updates to your mailbox
Be prepared for everything everywhere. It's not like we don't want you to spend the whole day with us, but you can literally set all folder updates to be sent directly to your mailbox, so you won't even have to log in to check them yourself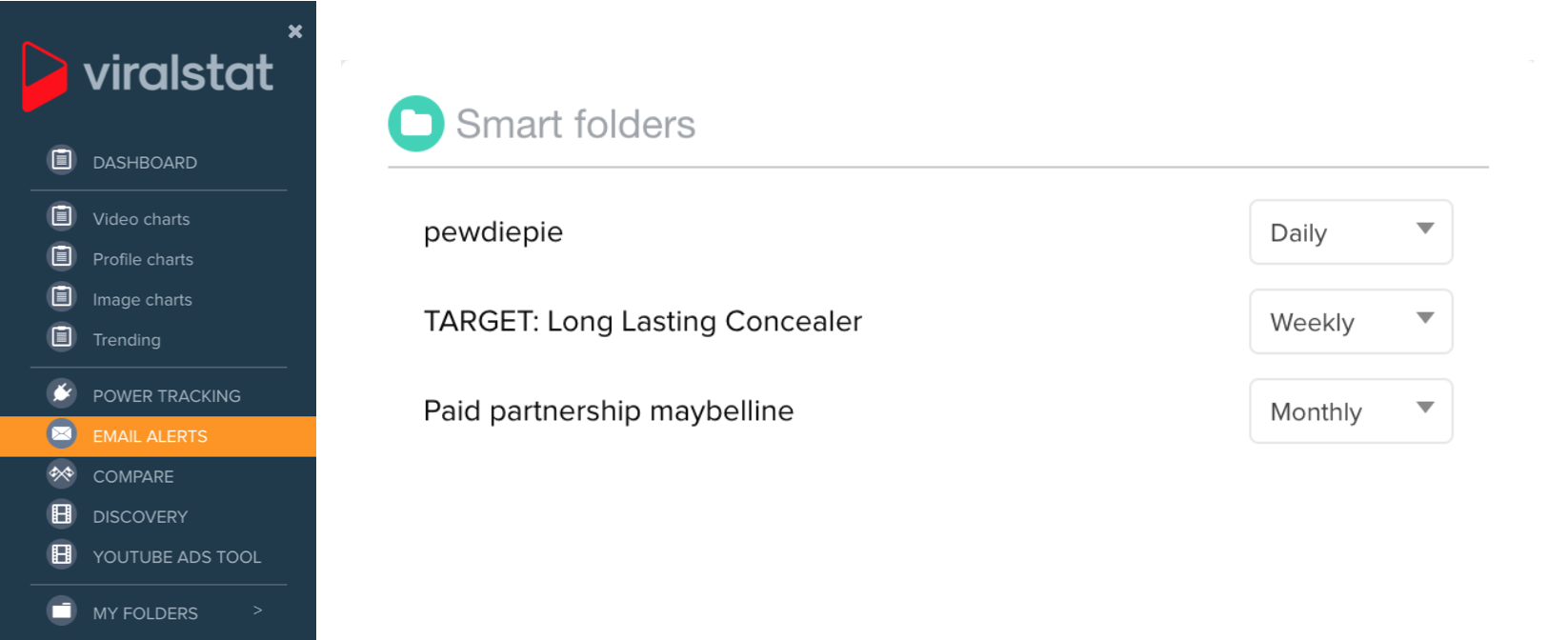 Clear performance indicators
All the most important performance metrics benchmarked on one dashboard
Exposed competitors' strategy
Deep insights and analysis into all social campaigns of industry competition
Advanced trending content & emerging creators discovery of any niche