Boost your
social video performance
with smart analytics of videos and profiles
on YouTube, Facebook and Instagram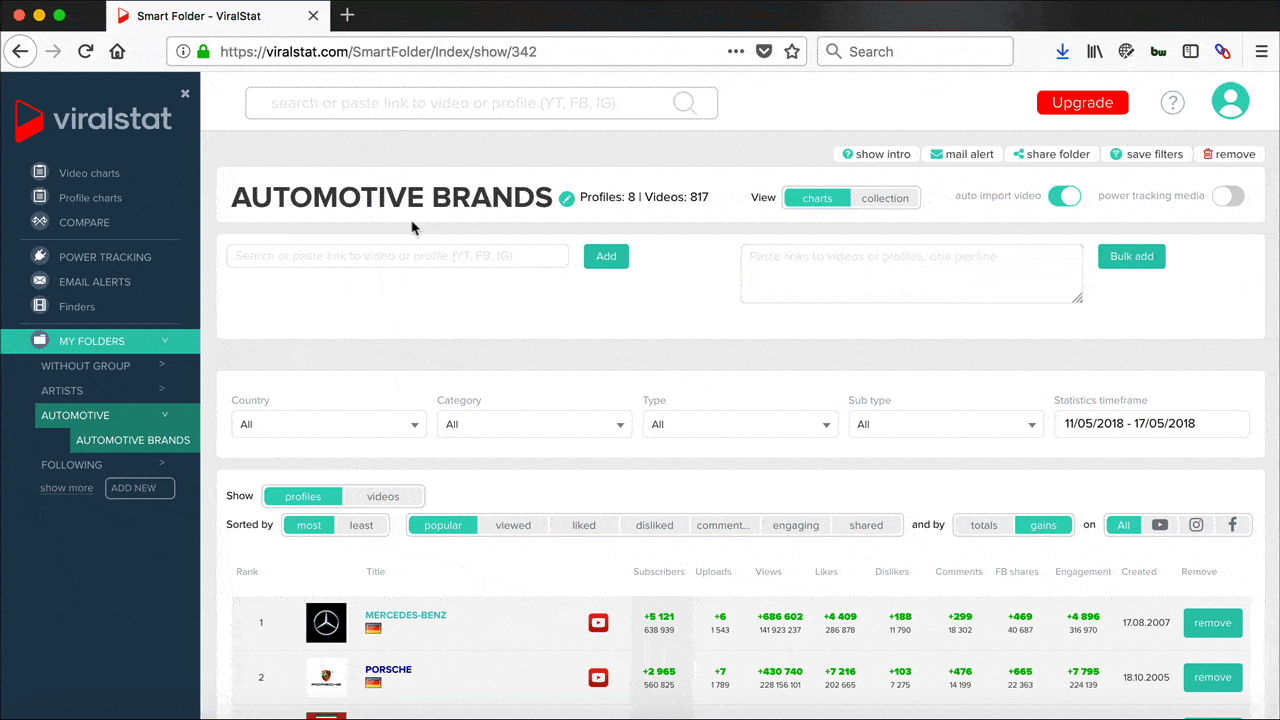 ViralStat is a smart & simple platform for everyone
Monitor all your competitors' videos and profiles – find out their
video marketing strategy
Measure, analyze and compare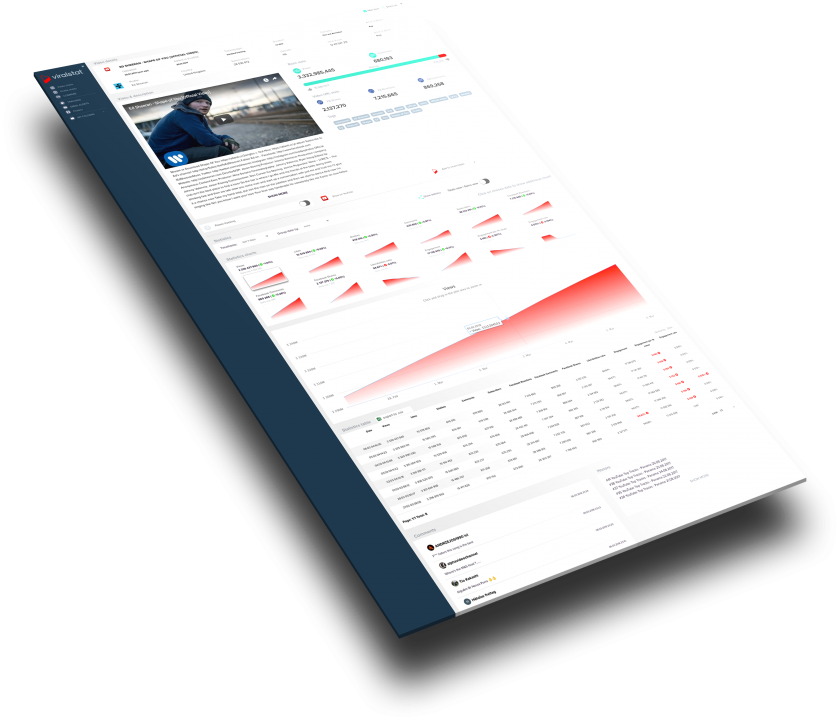 Video and Profile Analytics

Detailed statistics collected, updated and kept in one place, presented to you in a clear and transparent manner.
See the progress of videos and profiles you track: views number growth, likes/dislikes and comments increase, gain/drop of subscribers, overall viewers engagement and much more.
Create your own lists and collect data to designated smart folders, to have a
deep insight into statistics
Keep it simple, keep it smart in Smart Folders
Keep all your important data in one place. Organize personalised lists of videos or profiles in smart folders. Create as many smart folders as you need. Add videos or profiles to be compared.
Create lists of your competitors and benchmark with them. Make folders of influencers, content creators, companies within your branch or whoever you want to observe. Learn more about Smart Folders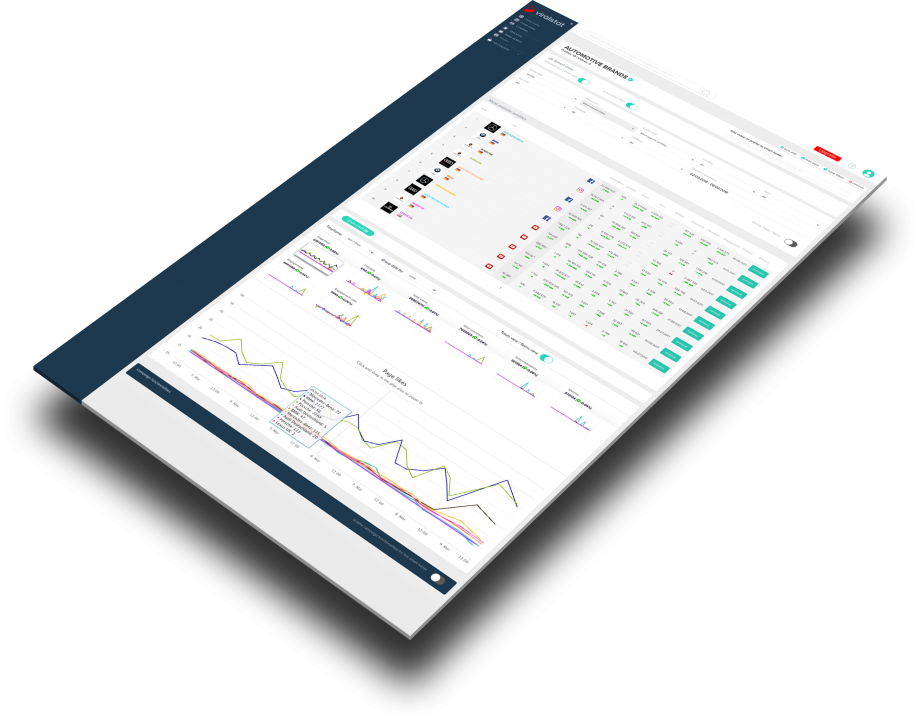 Find viral video content, trending creators and influencers with ease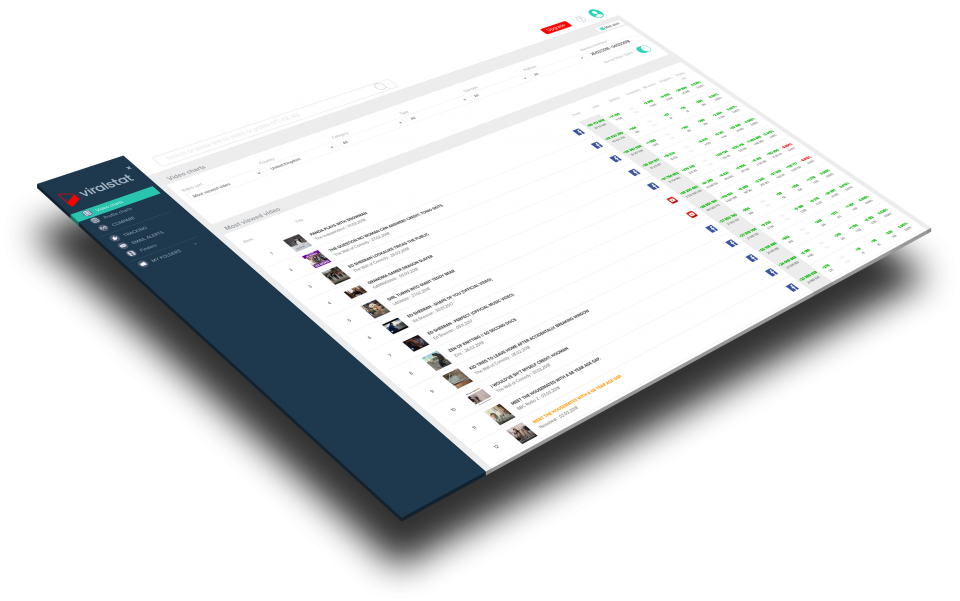 Top Viral Video Charts. Top Social Profile Charts.

See the most trending videos and profiles, updated daily, sorted by engagement, country, category and social media platform it's hosted on. You can find most viewed or even most disliked video or profile within desired time-frame.
Find viral video content, trending creators and influencers from around the world!
Everyday we track millions of videos and profiles
from YouTube, Facebook and Instagram.
1. Search by keyword:
For example video tittle or profile username
2. Paste URL to video or profile on YouTube, Facebook or Instagram, for example:
YT video: https://www.youtube.com/watch?v=JGwWNGJdvx8
YT channel: https://www.youtube.com/channel/UC0C-w0YjGpqDXGB8IHb662A
FB video: https://www.facebook.com/mtvuk/videos/1963659727009535/
FB page: https://www.facebook.com/mtvuk/
IG video: https://www.instagram.com/p/BgA3vkyl33y
IG profile: https://www.instagram.com/teddysphotos
If we don't have the video or profile you are looking for, once you entered it for search, we will add it to our database and track it from now on 😉