Monitor your industry
& benchmark with competitors
Discover viral content across social media now
Find emerging influencers and uprising stars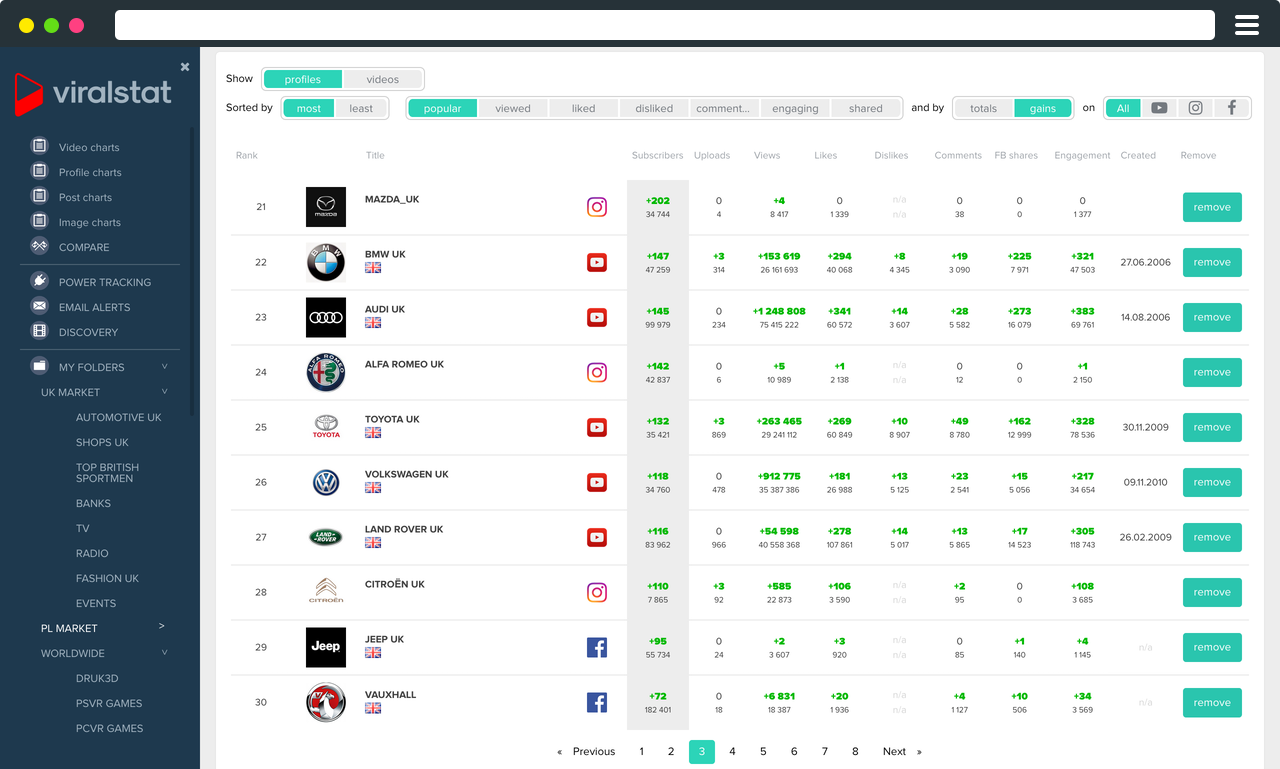 ViralStat is a social video intelligence platform for
Monitor all your competitors' videos and profiles – find out their
video marketing strategy
Measure, analyze and benchmark with anyone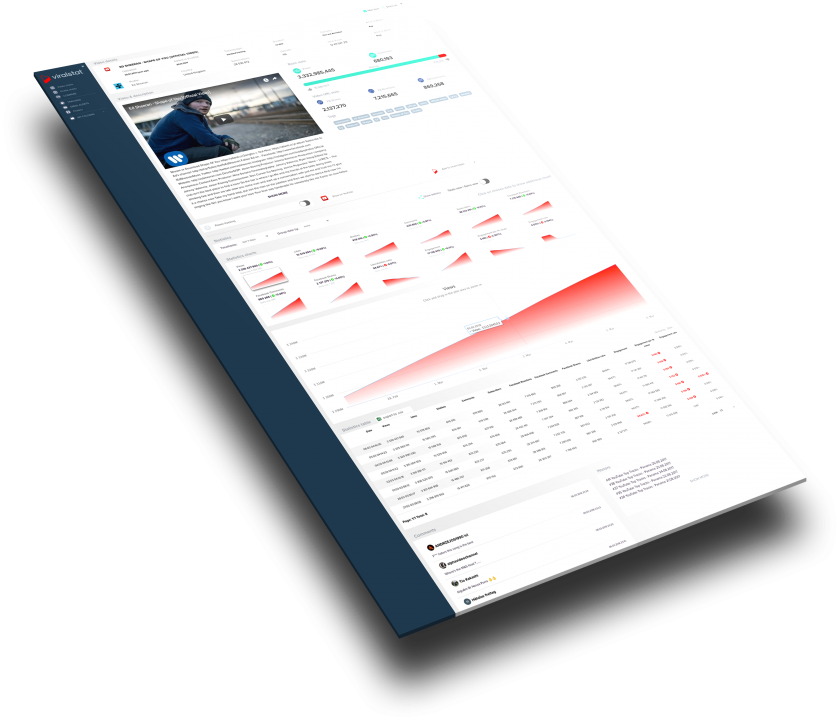 Video Intelligence
Social Media Analytics
Discover and monitor any public profiles, videos and posts from Facebook, YouTube and Instagram. Uncover success story behind each viral video. Access detailed performance analysis of any niche creator.
Learn most crucial data driven engagement metrics on each tracked video and identify quality topics. Take inspiration and curate your content to give the targeted audience what they will appreciate.
Create own collections with videos and profiles you want to monitor and access the deep insight into their most accurate statistics
Keep it simple, keep it smart in Smart Folders
Track your social media performance in one automatically updated dashboard. Monitor your industry competitors and benchmark with them.
Analyze cross-platform what content relevant to your niche arouses positive engagement, gain detailed insights into your competitors' performance analysis and apply most effective tactics to reach your target audience faster.
Research any industry and create reports. Compare cross-platform progress of video campaigns. Analyze cooperation with various creators and monitor user generated content.
Stay on track with profiles, videos and posts updates important to you!
Learn more about Smart Folders
Discover viral video content, trending creators and influencers with ease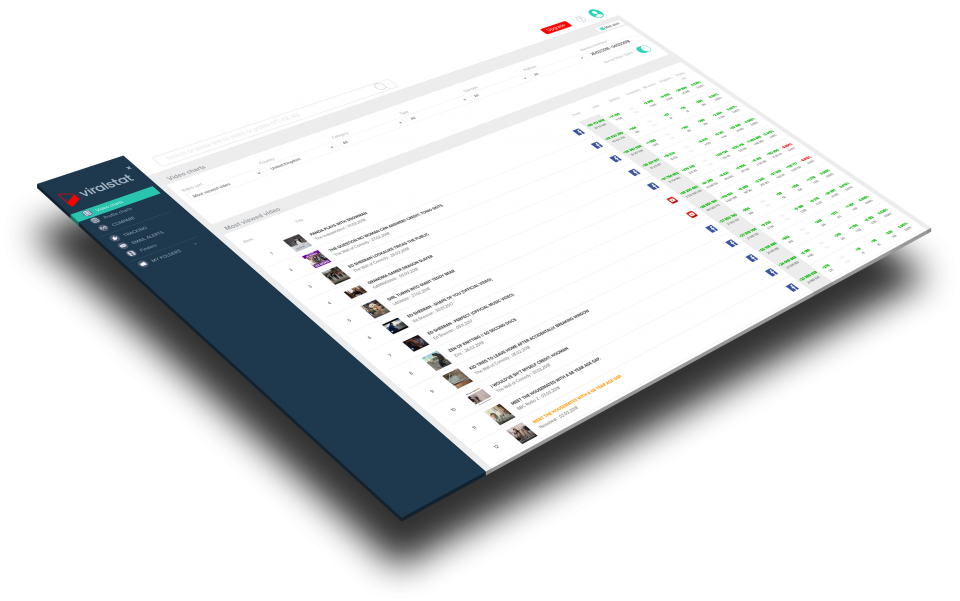 Leaderboards
Check which videos are currently most popular, which content creators rank the highest within any niche or industry, even check most popular posts and images uploaded to Facebook and Instagram, worldwide or in any particular country, and at any defined time frame. Don't miss out on viral stories ever again! Browse any category in order to search for most trending topics and influencers and curate stories for your target audience.
Discover viral topics and rising creators, find content inspirations, search and track activity of any content creator – all within daily updated Top Charts!
Data driven content discovery and
Influencer search tool
Identify most trending stories for any niche, search by keywords and hashtags for content inspiration or your industry competitors, from any country or globally. Learn what is most appreciated by your target audience, spot rising stars and most viral stories across social media now.
Discover most suitable influencers to partner with, of any niche and country. Add all relevant profiles into a folder in bulk for exact monitoring of their social media performance.
Grow your audience with most reliable industry experts!
Find monetized YouTube videos of your niche and place your Ads on highly relevant content to increase your ROI at lower cost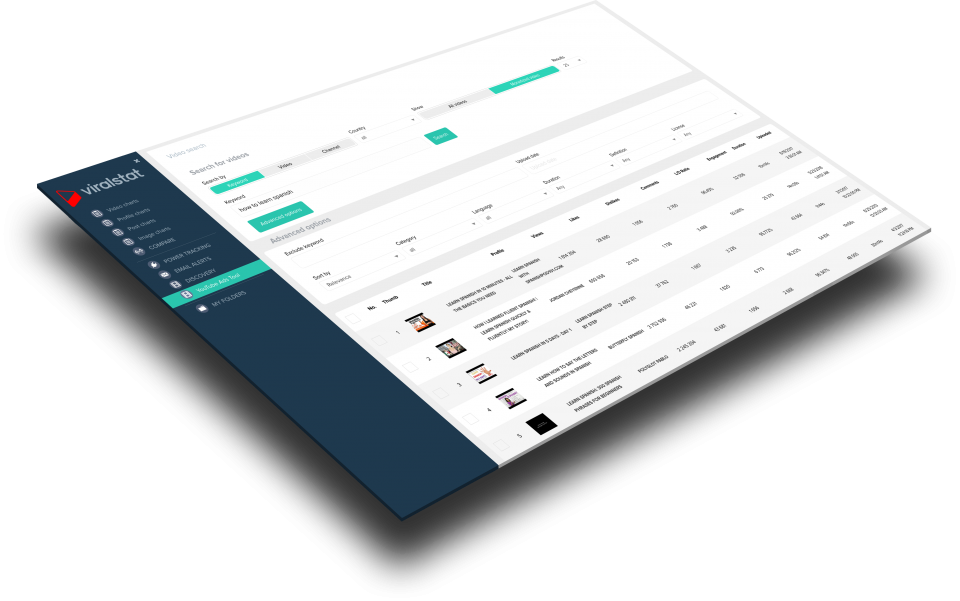 Laser targeting and brand safety
Find the most relevant Ads placements by target keywords
Lower your advertising cost, increase conversion and save hours browsing for related videos to run your AdWords campaign on brand safe and well-converting content.
Extract the list of most popular and appreciated monetized videos in minutes and run Ads with the confidence that your content reaches precisely targeted audience only!
We track millions of videos and profiles
from YouTube, Facebook and Instagram.
Every day.
1. Search by keyword:
For example video tittle or profile username
2. Paste URL to video or profile on YouTube, Facebook or Instagram, for example:
YT video: https://www.youtube.com/watch?v=JGwWNGJdvx8
YT channel: https://www.youtube.com/channel/UC0C-w0YjGpqDXGB8IHb662A
FB video: https://www.facebook.com/mtvuk/videos/1963659727009535/
FB page: https://www.facebook.com/mtvuk/
IG video: https://www.instagram.com/p/BgA3vkyl33y
IG profile: https://www.instagram.com/teddysphotos
If we don't have the video or profile you are looking for, once you entered it for search, we will add it to our database and track it from now on 😉

Stay on top of social media trends.
Access data driven insights to detailed analysis of any profile, video and post across Facebook, YouTube and Instagram.