Hoy queremos mostraros cómo encontrar los canales más atractivos de YouTube. Usando la herramienta ViralStat vas a saber si el canal ha ganado mucha popularidad, quién ha recibido el número más grande de los suscriptores, visitas, comentarios, likes y dislikes, cuál ha sido el vídeo más compartido. Asimismo, podrás controlar el crecimiento de la popularidad.
En el presente artículo nos enfocaremos en cómo encontrar los canales más populares.
Te mostraremos cómo hacerlo en tan sólo unos pasos. ¡Empecemos!

1. Haz clic en "Profile charts" del menú a la izquierda.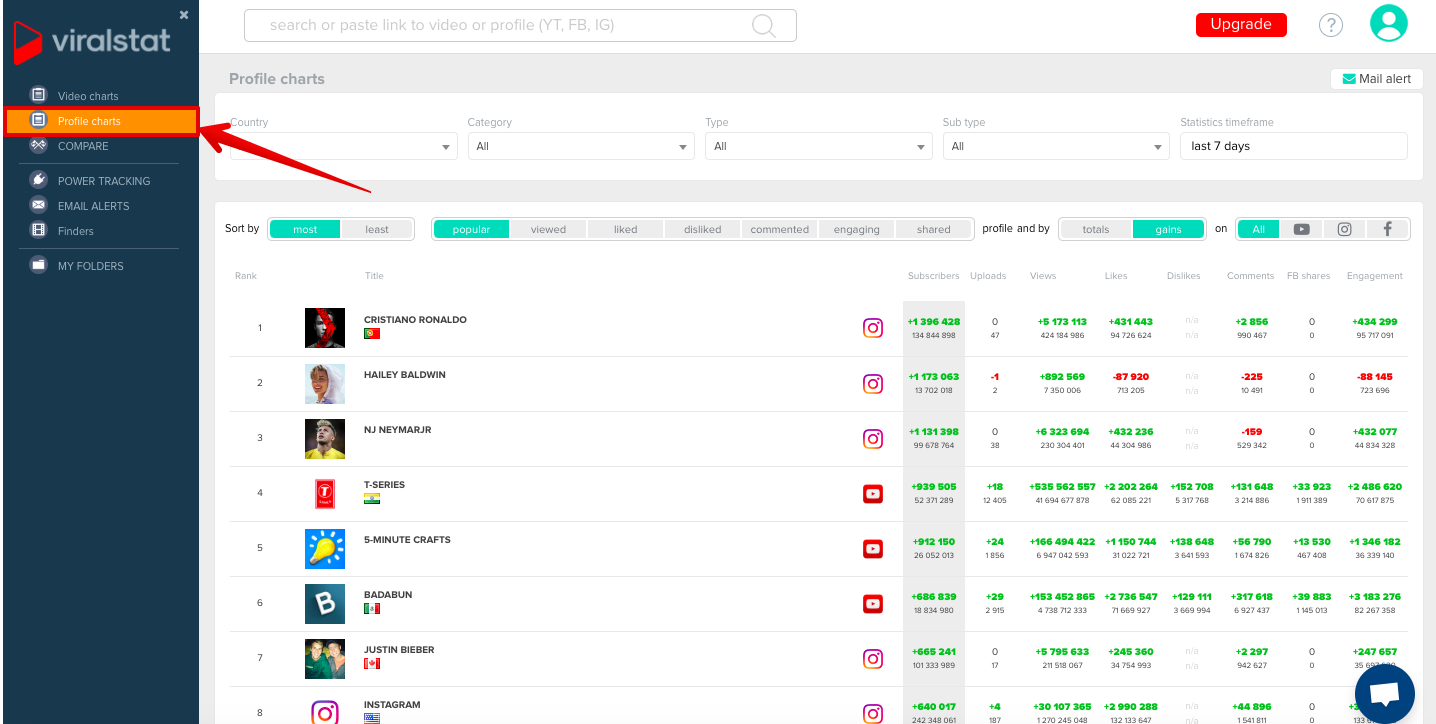 Del menú en la parte superior selecciona

sort by

"

most

", luego elige las siguientes opciones:  "

engaging

" profile; "

totals

" o "

gains

" (según los resultados que quieres obtener) y, al final, haz clic en el

ícono de YouTube

(ya que queremos explorar solo los canales de YT).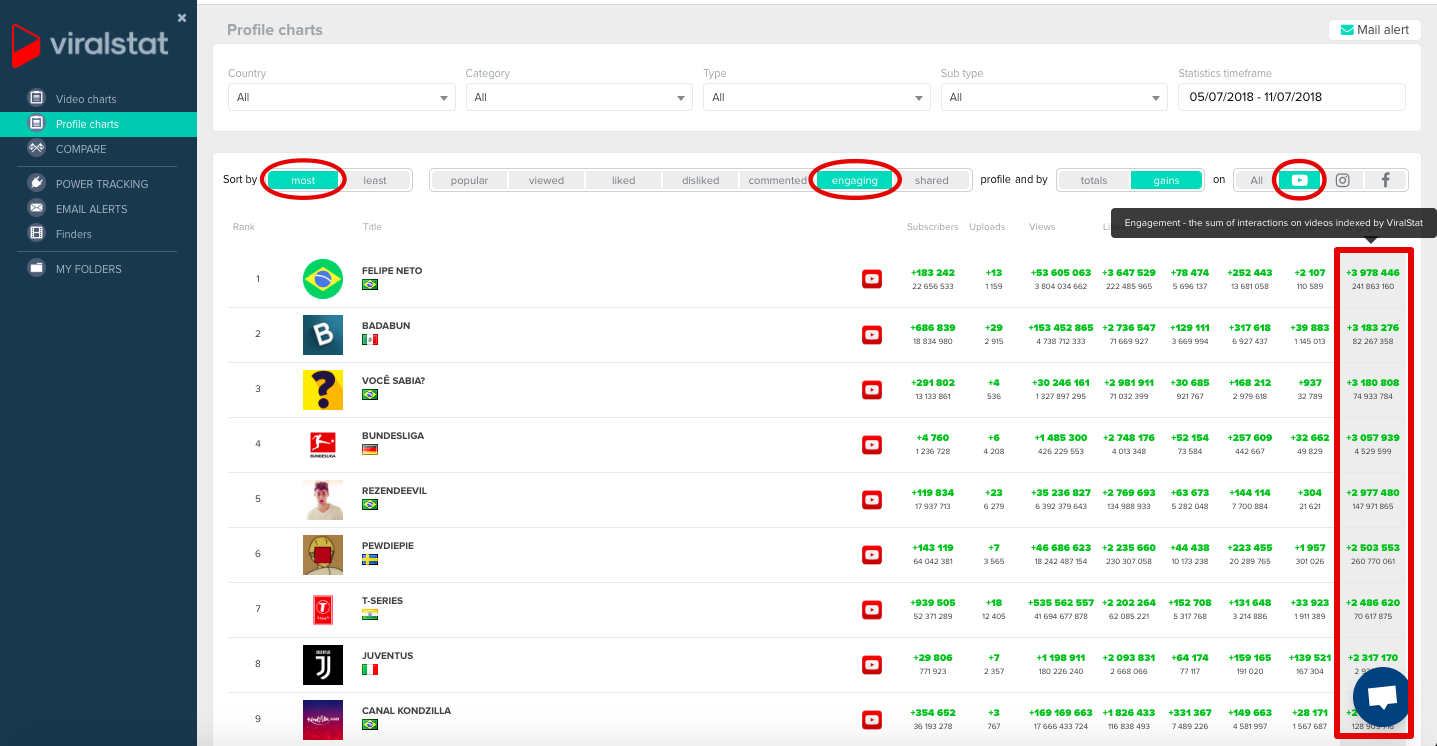 Así obtendrás los resultados según los parámetros que has seleccionado. En la última columna tienes "Engagement", o sea, la suma de las interacciones sobre los vídeos indexados por ViralStat. Presta tu atención a este parámetro.
La barra de menú en la parte superior te permite personalizar tus resultados según criterios elegidos de las siguientes categorías:
País / Country,
Categoría / Category (puedes elegir:  "All", "Nonprofits and Activism", "Comedy", "Entertainment", "Science & Technology", "Film and Animation", "Pets & Animals", "Sports", "Music", "Travel & Events", "Gaming", "Cars and Vehicles", "News & Politics", People & Blogs", "Howto & Style" o "Education"),
Tipo / Type (puedes elegir: "All", "Influencer", "Artist or Label" or "Sport"),
Subtipo / Sub type,
Periodo de tomar las estadísticas / Statistics time-frame

(you can choose specific options, e.g. "This week", "Last 7 days", "Last month" or also Custom Range – the time interval by your own preferences).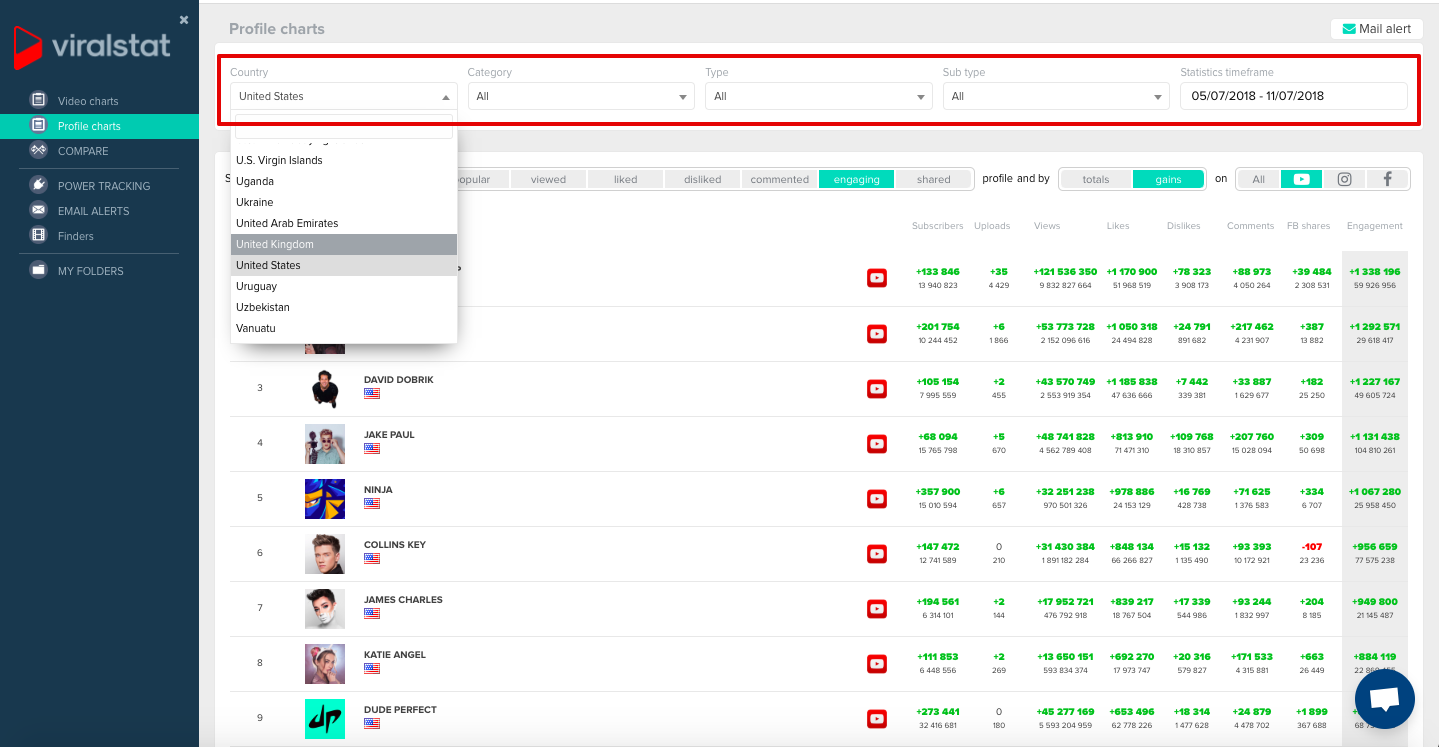 Además, en la esquina superior derecha hay una opción de

"

Mail alert

" disponible. Debes elegir "

Sending type

" y "

Time frame

" y luego irás recibiendo actualizaciones por el correo electrónico.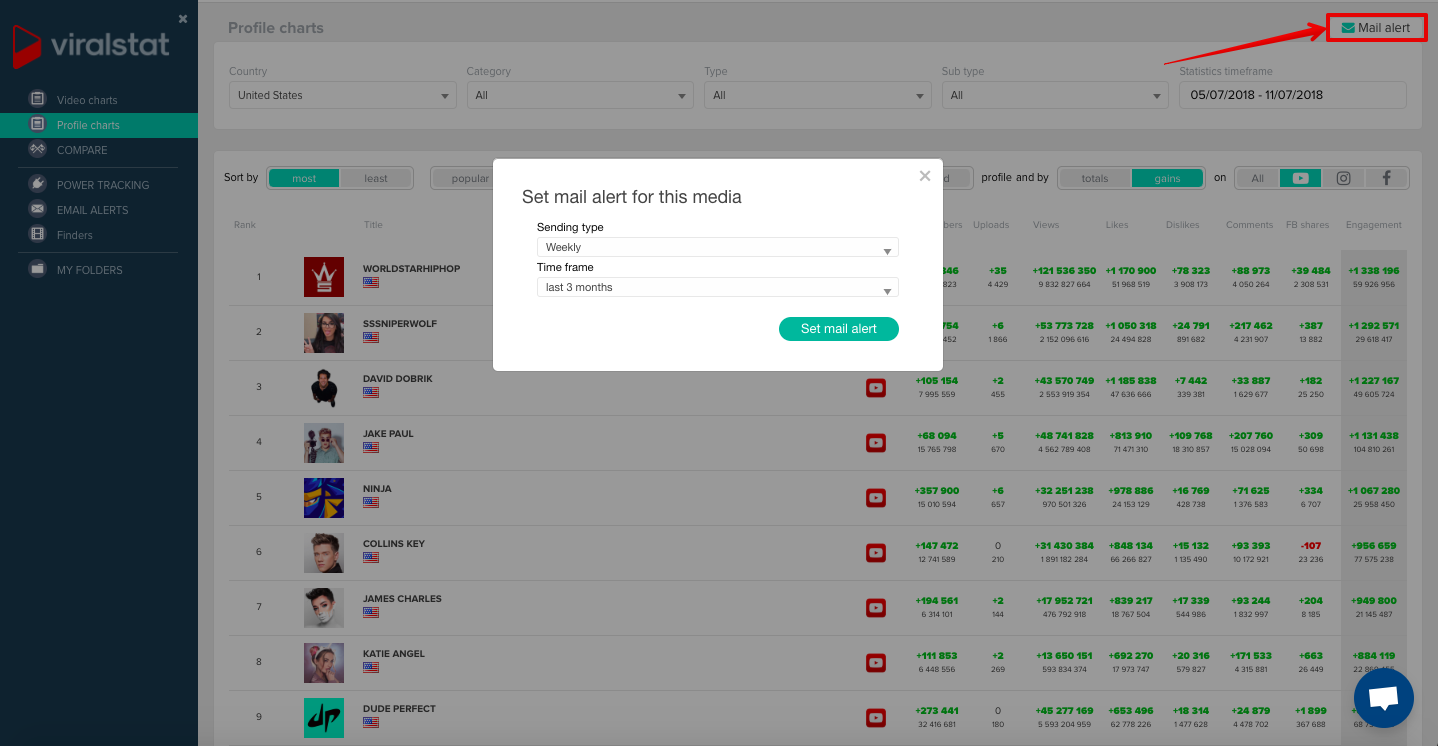 Como puedes ver, es bastante fácil encontrar los canales más populares de YouTube. Así en pocos pasos puedes obtener una lista de las cuentas buscadas por ti.
Te recomendamos que pruebes la herramienta ViralStat para descubrir cuáles son las otras opciones que ViralStat ofrece a los usuarios.
– Most popular profile on YouTube/Facebook/Instagram/
– Most engaging video on YouTube/Facebook/Instagram/
– Top Viral Video Charts
– Top Social Profile Charts