Why should you be familiar with ViralStat, and how can it help your YouTube channel growth?
If you're a YouTuber or only plan to become one, you should be aware of the high competition out there (no matter the niche really). No wonder: YouTube is the second most popular social platform of the world, and with nearly 2 Billions of users, it is a real struggle even to get noticed.
89% of marketing professionals that use video say that it provides a good return on investment (TheMarketingHelpline)
You've got two case scenarios to follow: create whatever comes to your mind and see how it goes in the hope it'll trigger the audience spot one day, or do market research and investigate what's on-demand now. Because what's the point in producing outdated videos no-one's going to watch anyway?
It's also crucial to know how you rank in your niche and compare your performance against the competition.
This is where social video analytics tools, like ViralStat, come in handy. Why should you be familiar with it already?
Roughly, 400 hours of video content is uploaded to YouTube every minute (Brandwatch). Let's face it: it's impossible to keep an eye on everything that's posted, not to mention most of this content is not even worth a second thought.

How can ViralStat help out in searching for the best content (inspiration)?
Popularity Leaderboards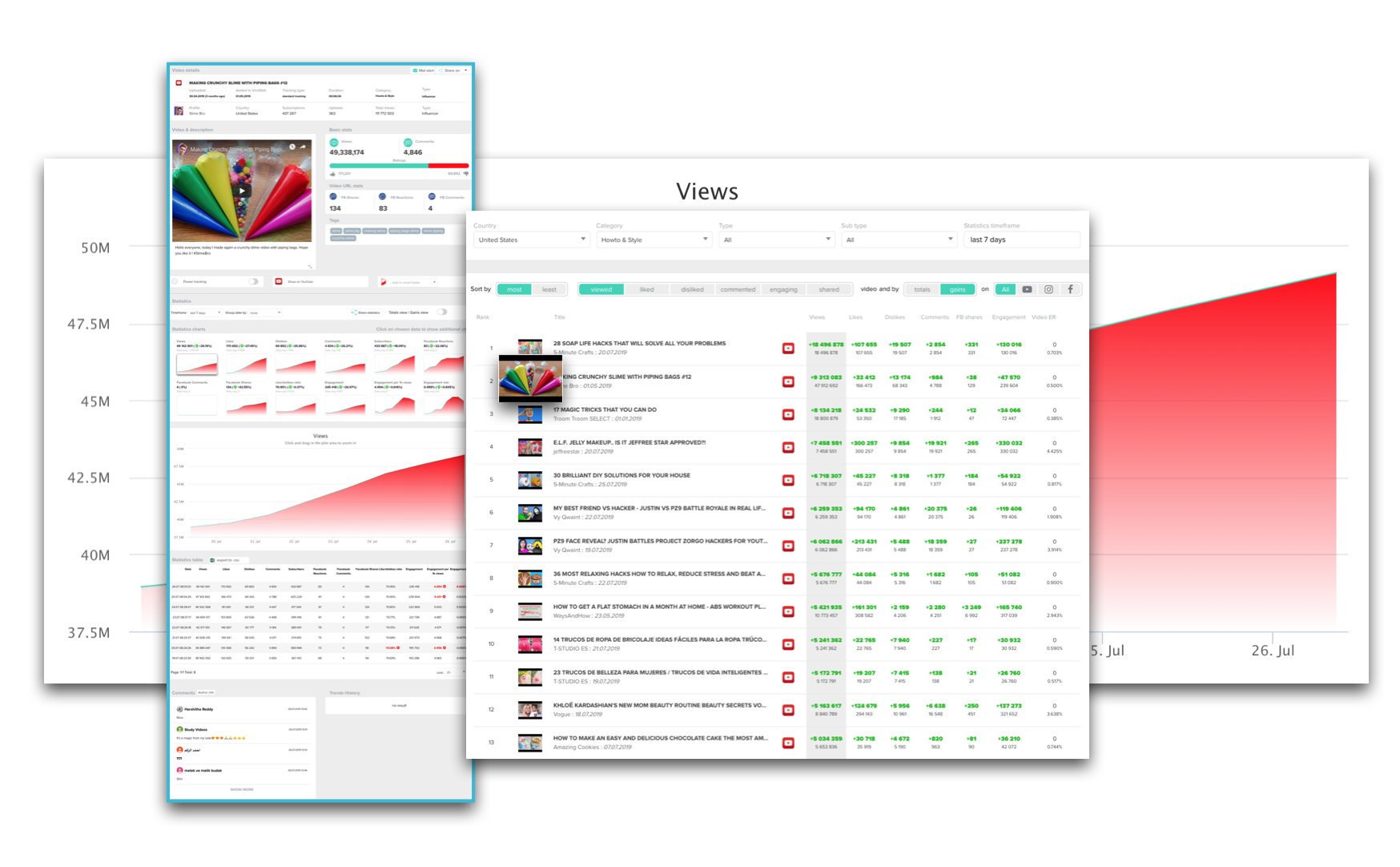 ViralStat is the first tool worldwide to introduce daily created cross-platform leaderboards of most popular videos on YouTube, Instagram and Facebook. Not only you can sort your results by the country and engagement metrics, like view or likes count, but also identify what gets the most significant audience appreciation across 15 different niches, from Non-profits & Activism to Education.
This way, you can quickly get the indication of your viewers preferences and produce more appealing videos to grab their attention.
Cross-platform leaderboards are also great to track global video trends now and within the historical time frame of your choice. This way, you can identify which uploads scored the highest viewership and engagement or identify which of them gained the most dislikes (yes, you can check that too!). What can be a better source of content inspiration then already viral creations of the most promising creators globally?
Top Charts are also an endless mine of other social content inspiration and upcoming creators, as, beside Video Charts, we run Profile, Image and Post popularity rankings (unique in the global perspective!). Enough said, that if you want to stay up to date with the hottest topics and benchmark with any niche Influencers worldwide, here's where you should head to in the first place.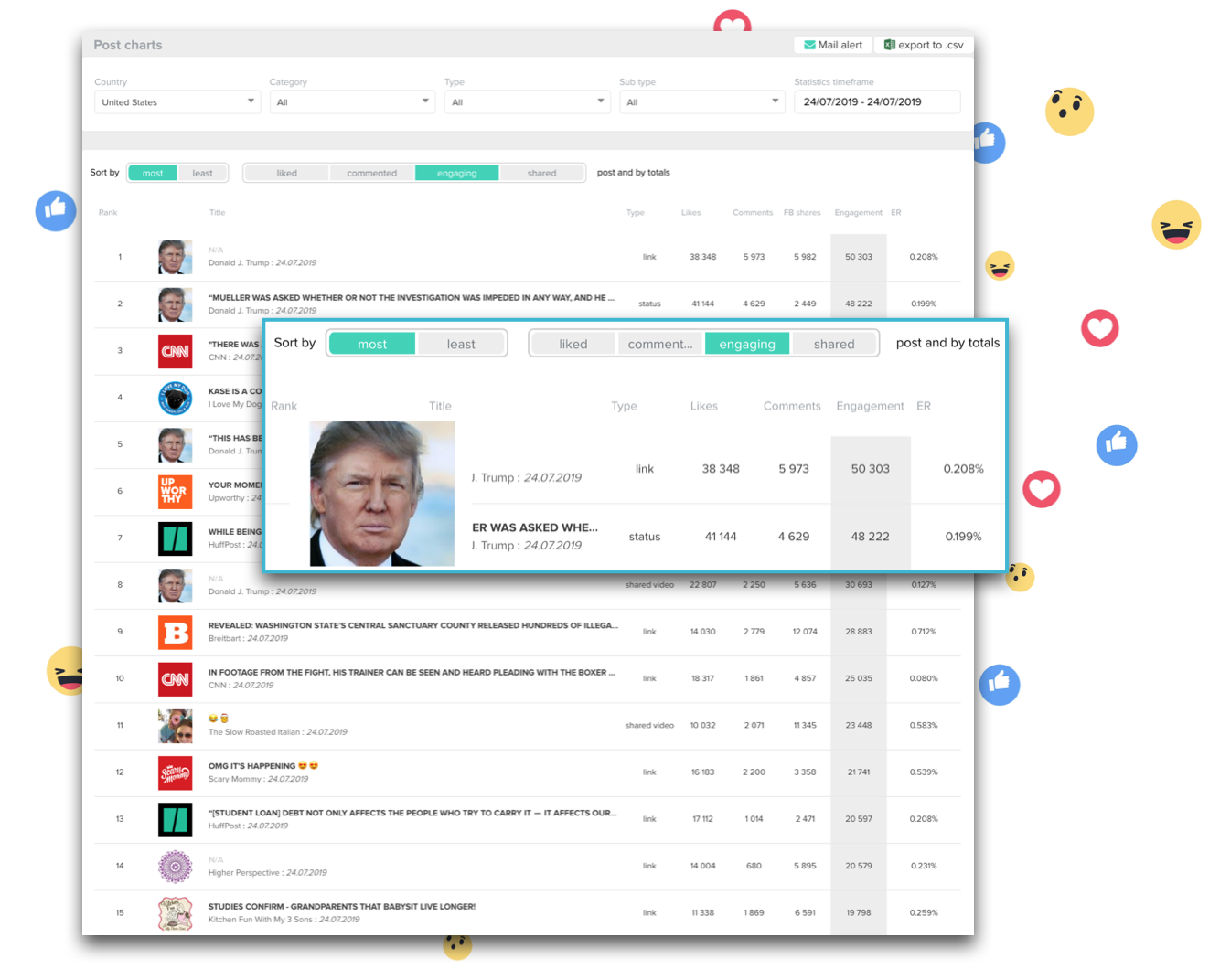 Leaderboards are available from the Personal plan so nothing should keep you from staying on top of social trends 👍🏻
Learn more here: Leaderboards
Discovery tool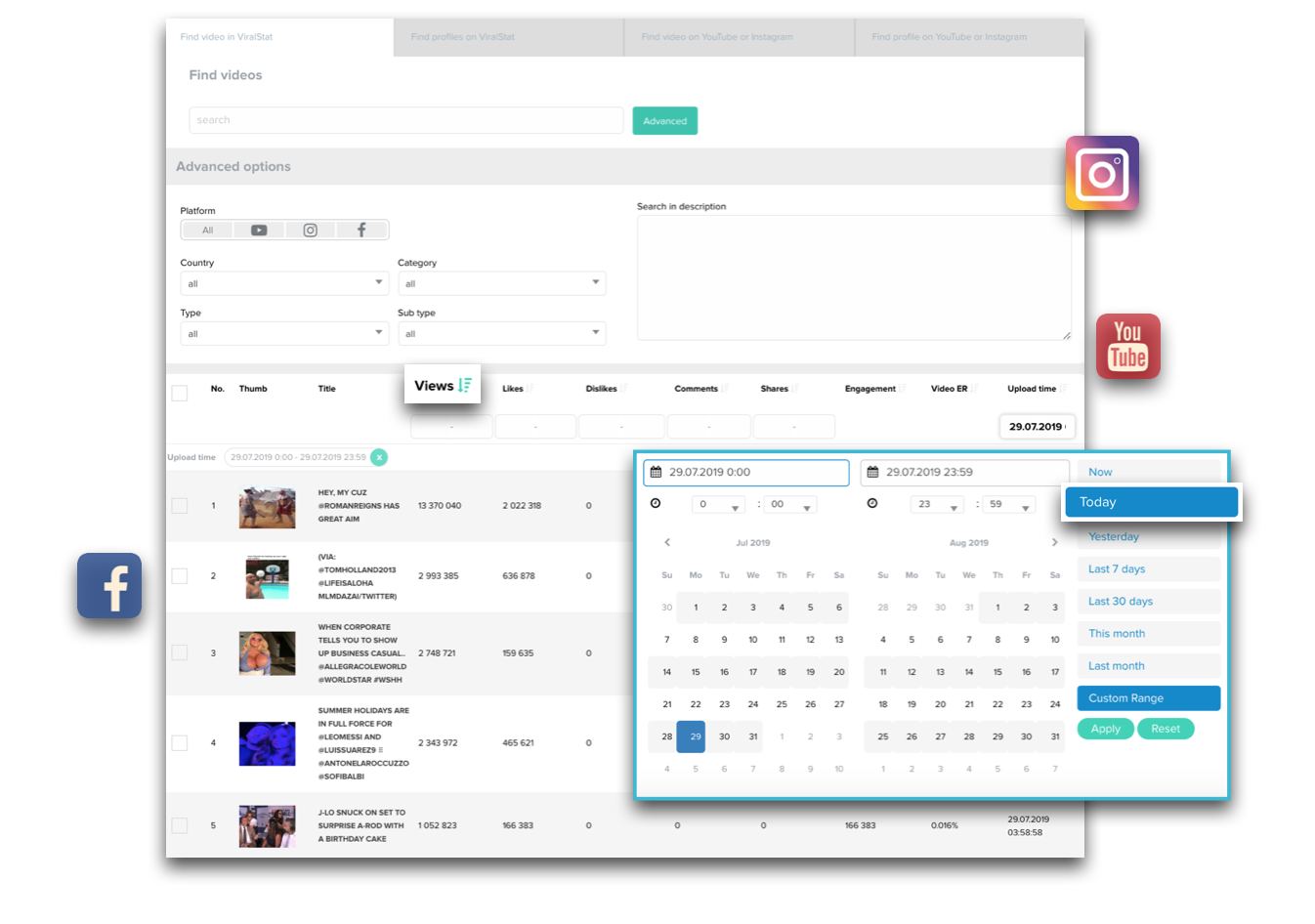 This is another of our modules that can quickly help you find content inspiration but also conduct any industry research for an easy benchmark with local and global competition. By any keyword, you can think of.
How is this helpful for you?
With the Discovery tool, you can not only conduct any industry research and see what your niche competitors upload, but you can also:
learn cross-platform content trends

search for content inspiration by any niche related keyword

learn global video trends (again!)

capture emerging creators and investigate the story behind their success

identify the most viral videos of any niche and time frame

discover creators by their location

find industry experts and pinch ideas from their best resonating uploads
Curious to know which uploaded yesterday YouTube video from Australia scored the most views? Couldn't be easier with Discovery! Select the country of your preferences, set the upload date to Yesterday, platform and then filter your results list by view count, and voila!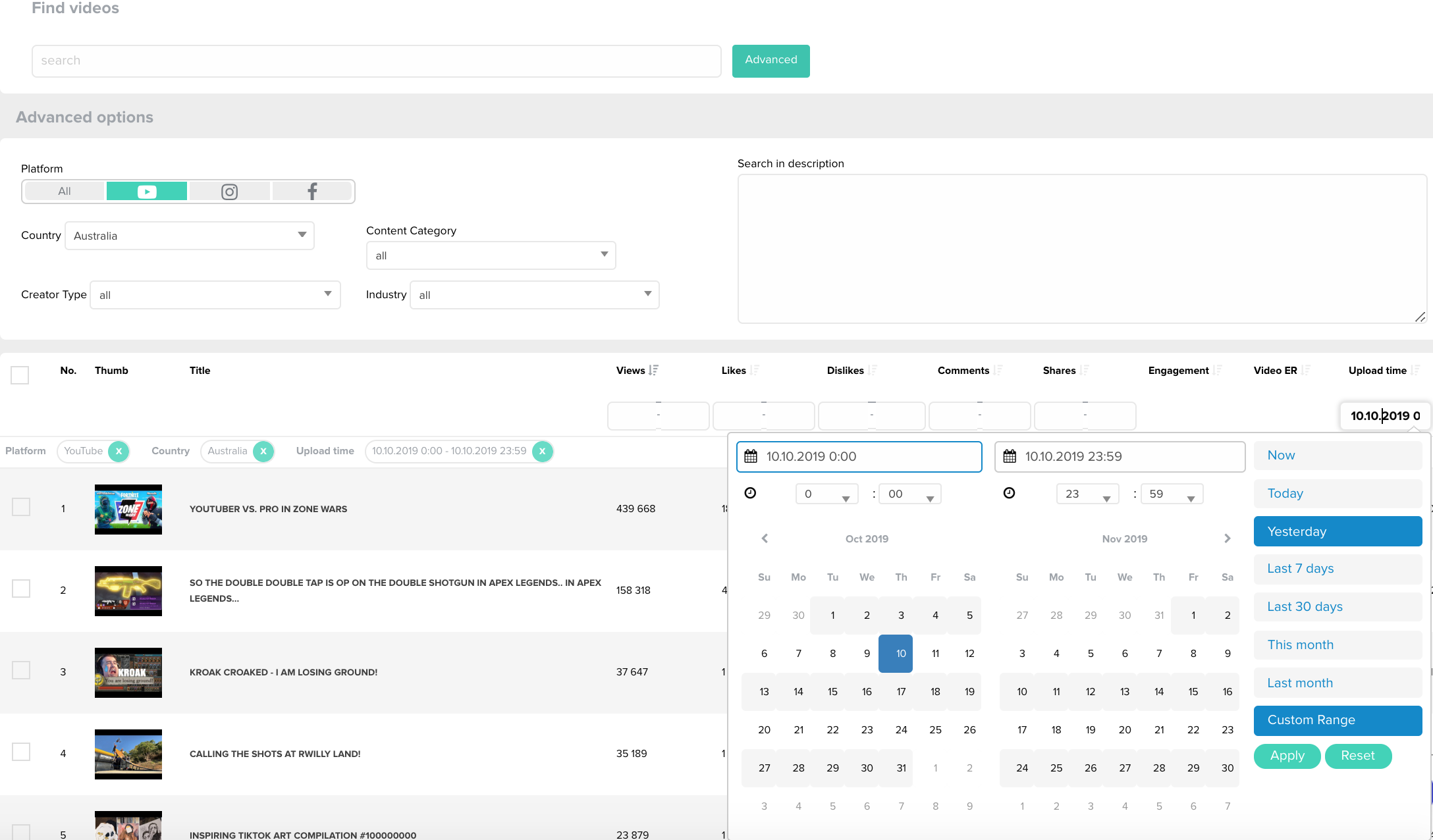 Same when it comes to keyword research: type any keywords of your interest/need into the designated field and pull the videos upon relevant request. Not sure of the subject of your next video or if the creation you're planning will meet your audience expectations? Check out what other YouTubers have made on that topic and how it went on for them.
Learn more here: Discovery
You can further inspect any of the pulled videos detailed performance analysis, which leads us straight to another feature helping you understand the success behind each influential creation:
Detailed profiles and videos statistics insights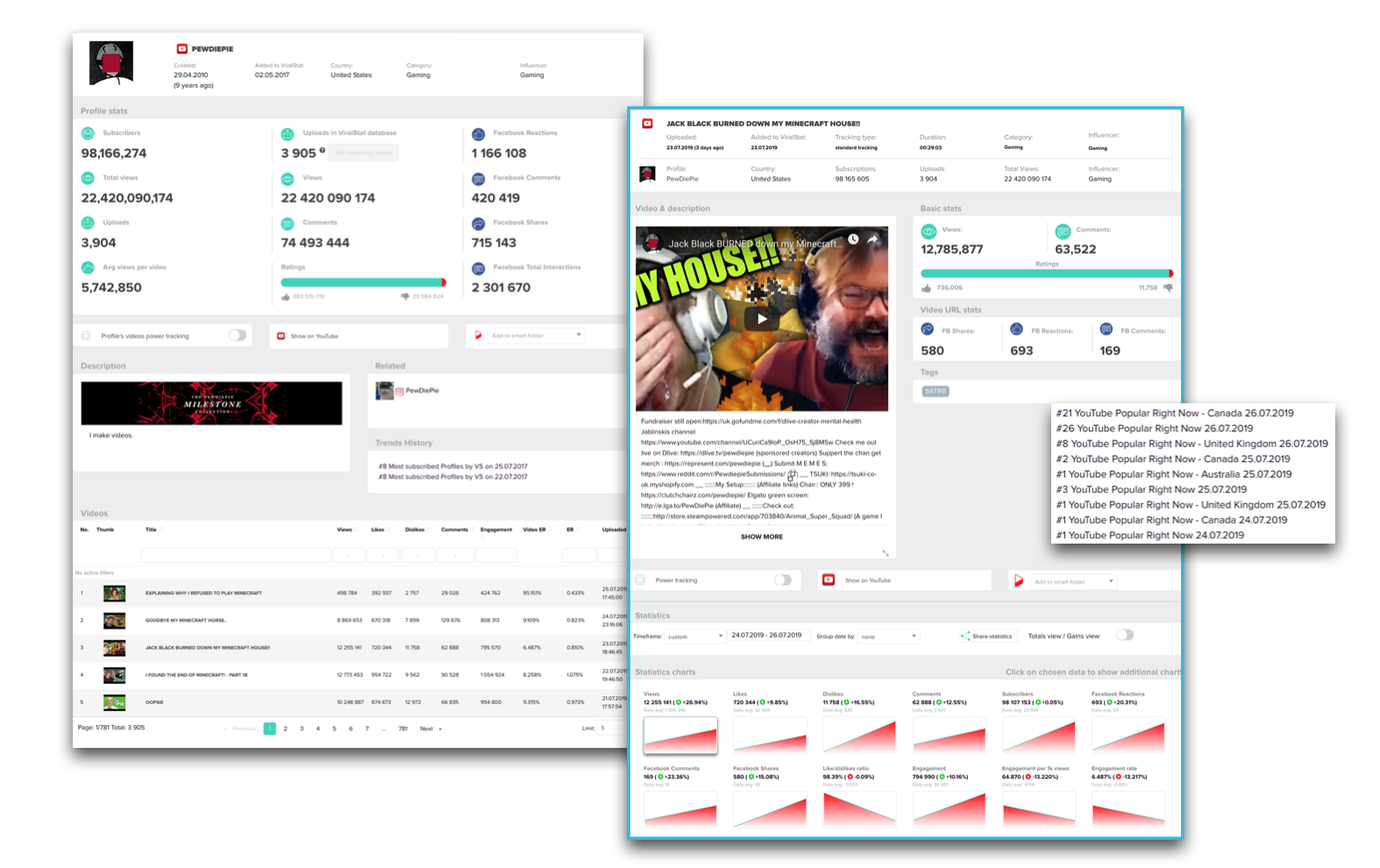 ViralStat allows you to get detailed insights into statistical analysis of every public profile and video of any creator on the globe.
What does that mean for you?
Simply put, you can anonymously check the overview of other creators channels, learn which of their uploads perform better or worse and compare with your progress. You can also add any profile of the YouTuber you observe and then x-ray his ongoing YouTube channel growth.
There's no limit to profile and video pages you can inspect!
Improve your video SEO by applying tags of the best performing uploads – the list of video tags it's also there, ready to copy so your video has a chance to appear next to viral content of creators you aspire to.
If you feel like keeping an even a closer eye on new upload of the creator you follow or compete with, just set his video to power tracking and its statistics will be refreshed every three hours! You won't be able to obtain such frequent updates on others uploads anywhere else, and therefore the potential of that feature is simply huge! It allows you to capture significant increase or drop in view count (fake boosting!), monitor the real performance of creators you monitor and analyze your competitors' videos thoroughly right from the beginning!
 Read more: Social Media Analytics and Social Video Intelligence
But the primary purpose of accessing such a detailed performance analysis of any creator is to benchmark and improve your performance:
Smart Folders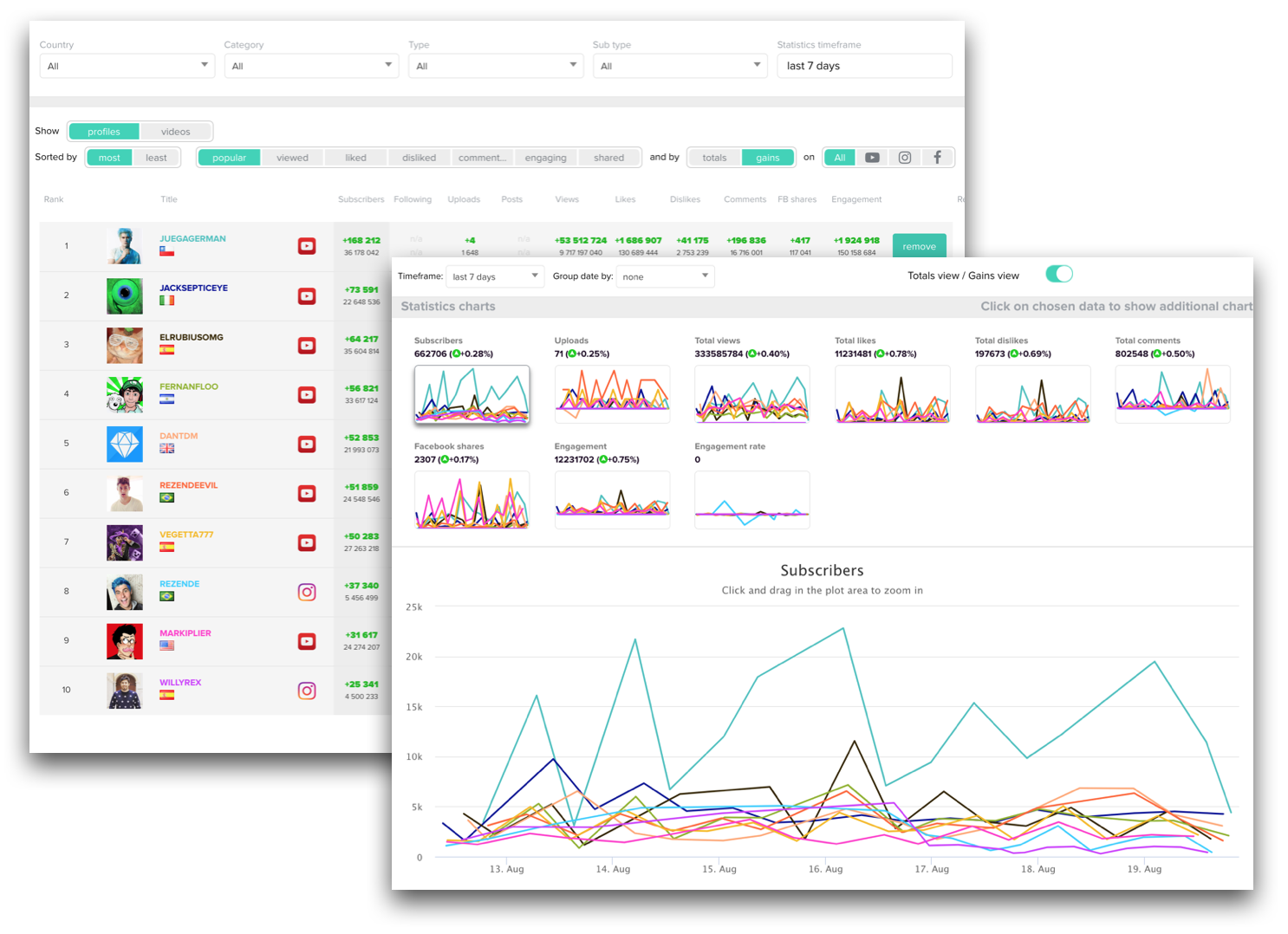 Folders you create can be collections of anything! Your social profiles (for growth analysis and cross-platform benchmark), your fellow competitors (same purpose, plus identifying their best content for inspirations), creators you admire, your favourite artists, beloved songs, videos on the topic of your interests, industry experts and leaders you follow, so you won't miss out on the new content they upload, anything you can think of!
Not to mention, you're getting the ongoing YouTube channel growth analysis of all creators in your collections at the same time, so you can verify which of their content builds the highest engagement and is truly worth reproducing/watching. All of that on one transparent dashboard showing the exact subscribers or views gain of any creator and his upload.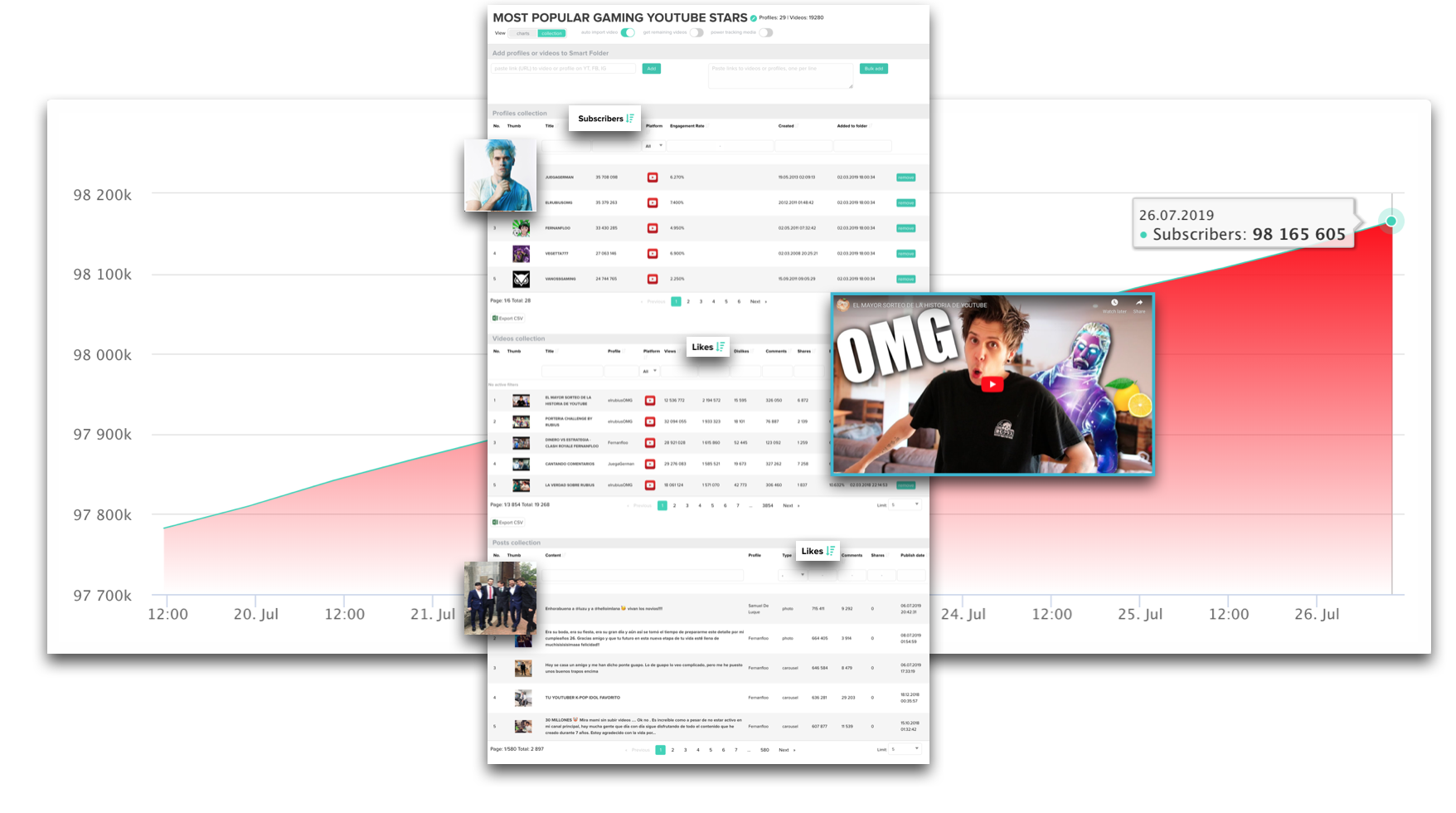 Could you think of a more natural way to compare your efforts with the ones you compete with than aligned with one another with clear indicators of what resonates to your targeted audience? Thought so 😎
Smart Folders can hold up to 250 000 (!) of profiles and videos within, so quite of space to collect most of the YouTubers you want the constant monitory of. These collections allow to sort all profiles by the subs count (in total or gained in the defined time frame), rank videos from most to least viewed, liked or even shared and do exactly the same with their Facebook & Instagram posts (if you have any such profiles included).
Quickly check what your monitored creators uploaded and never stay behind on social trends: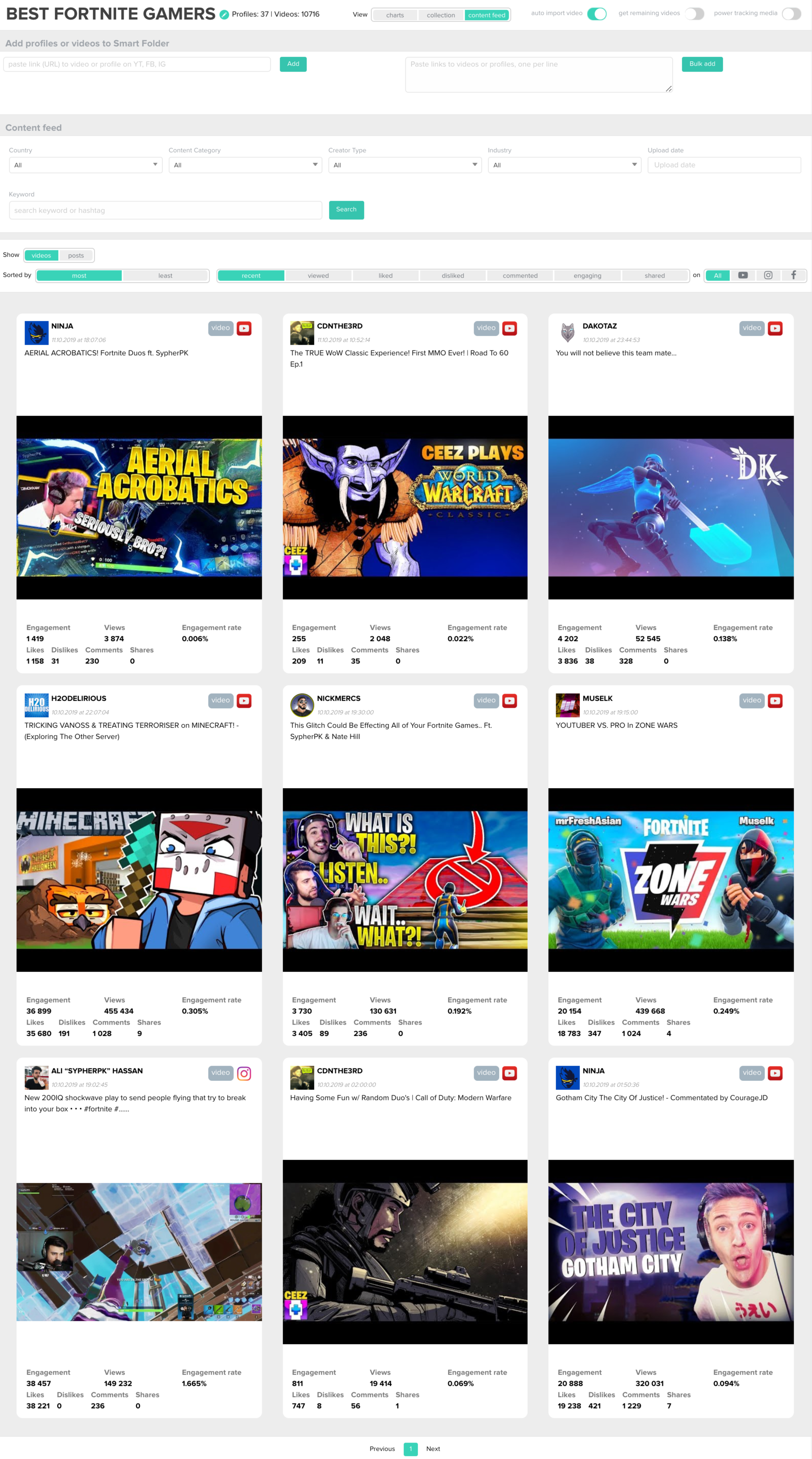 No more guessing what your audience likes!
Read more here: Smart Folders
Ready to take ViralStat for a spin and make your content skyrocket?
Go ahead and claim your 14 day Free Trial today!