How can you optimize your daily workflow with ViralStat when working at Music Label or MCN?

Keeping an eye on hundreds of managed creators' social channels can be time-consuming. But does it have to be like that?
The answer is: NO!
When you work in a music label, it is crucial to keep a constant track of what your artists post on their social media and the engagement it builds. But most and foremost, which of their uploads perform the best or where their content could be improved.
Same with multi-channel networks where you need to know how you look as a whole but also which of your managed creators score the highest in popularity ranks.
Another of your focuses is to monitor the whole industry in the search for upcoming stars, verify trending topics and identify how your pupils rank among the competition (to focus on evolving creators or let go of the cooperation that doesn't bring too much value to your business anymore).
How to efficiently monitor hundreds, sometimes even thousands of creators' real-time performance under one roof? And stay on top of social media trends with the least effort from your side possible?
This is exactly why you should already be familiar with video intelligence tools like Viralstat!
Monitor all your managed creators' performance on one dashboard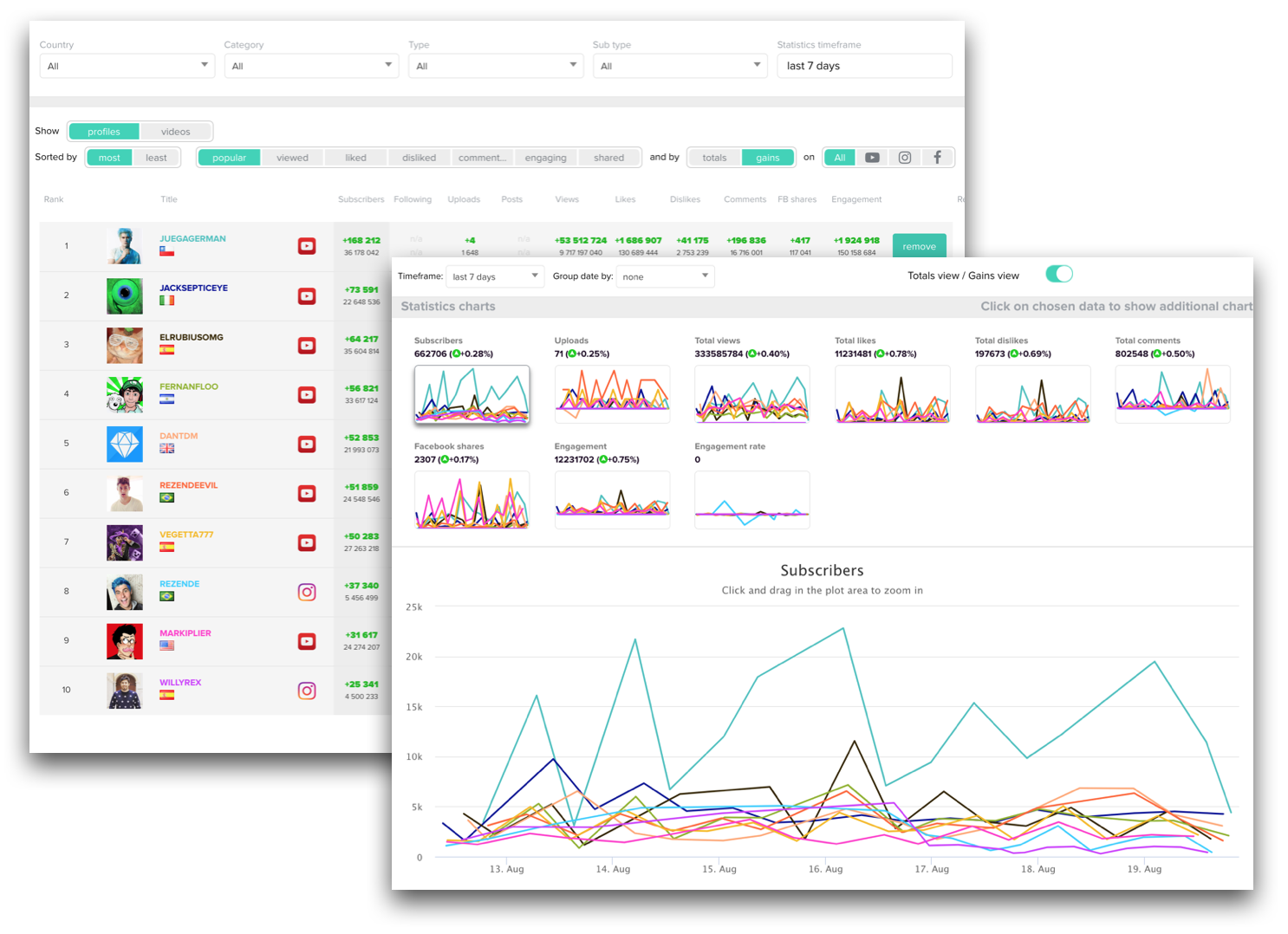 When you're responsible for updating and reporting about the progress of creators under your management, you know how rapidly your work gets outdated. Especially, when you're still updating manually in Excel, you know it is an everyday struggle that takes hours.
This is where ViralStat's 
Smart Folders 
are a savage!
Why?
Our unique folders could hold up to 250 000 items within and are automatically updated every day. It empowers you to closely monitor all of your artists, Influencers or gamer channels cross-platform performance under one roof, and then quickly compare with one another.
This way, you can get essential updates such as subscribers growth/loss, new views gained within the selected time, engagement metrics change on channels or chosen videos, and create any reports upon request. All on one transparent dashboard.
Once you add your monitored channels into the designated folder, you gain instant access to most accurate data about what content they upload, which of their videos have a chance to go viral, how they communicate with their audience, thus build engagement around their channels, and more. All that comes with easy reporting and relevant changes notifications delivered right into your mailbox!

Read more here: Smart Folders
Real-time competitors monitoring
So, you have a folder with creators you work with on a daily basis. Now imagine, that you are also able to create such folders containing profiles and uploads of Influencers competing with your fellows. How's that?
ViralStat enables to obtain detailed statistics insights into all public YouTube channels, Facebook profiles and Instagram accounts.
What does that mean and how it can help to optimize your work?
This way you can not only identify where you stand as a whole within your competition, but also easily pinpoint which uploads of your competitors grab most significant attention of the audience you also aim to win over!
Only few clicks away and you have a clear answer who rocks the industry you monitor, who gained the most subscribers and which uploads went viral! That knowledge is absolutely priceless, yet easy to overlook when you have just enough time to focus on your basic tasks.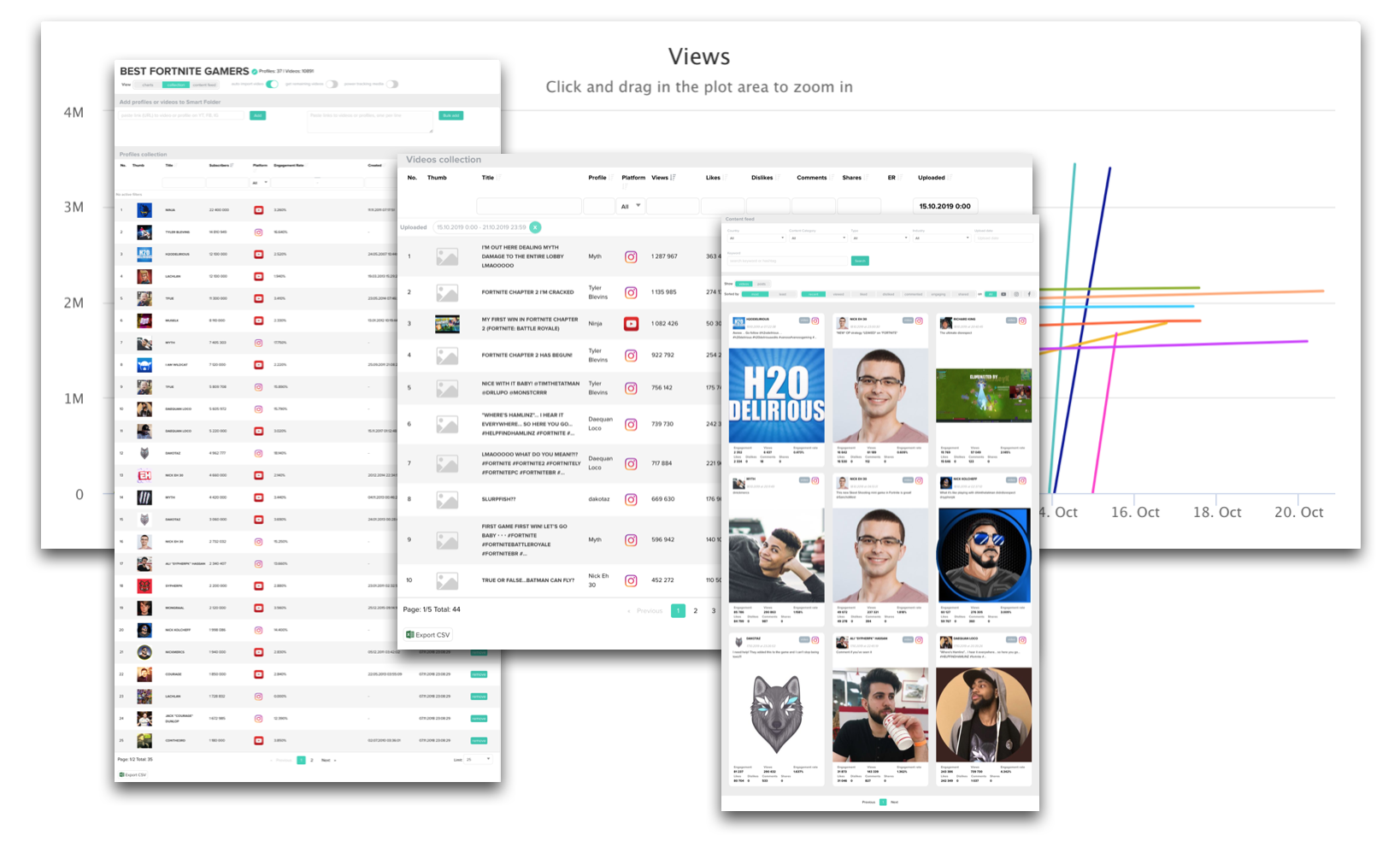 Learn more here: Competitive Analytics
Organize your work!
As you can see, smart folders can be collections of anything: your partners, competitors, global industry experts, content ideas for future creations, trending global or local creators you plan to invite for cooperation, and more.
It's up to you, what you want to track and compare!
It all comes down to organizing your folders into sections, that you can further merge for a quick performance comparison (and yes, creating transparent reports with one click of the button).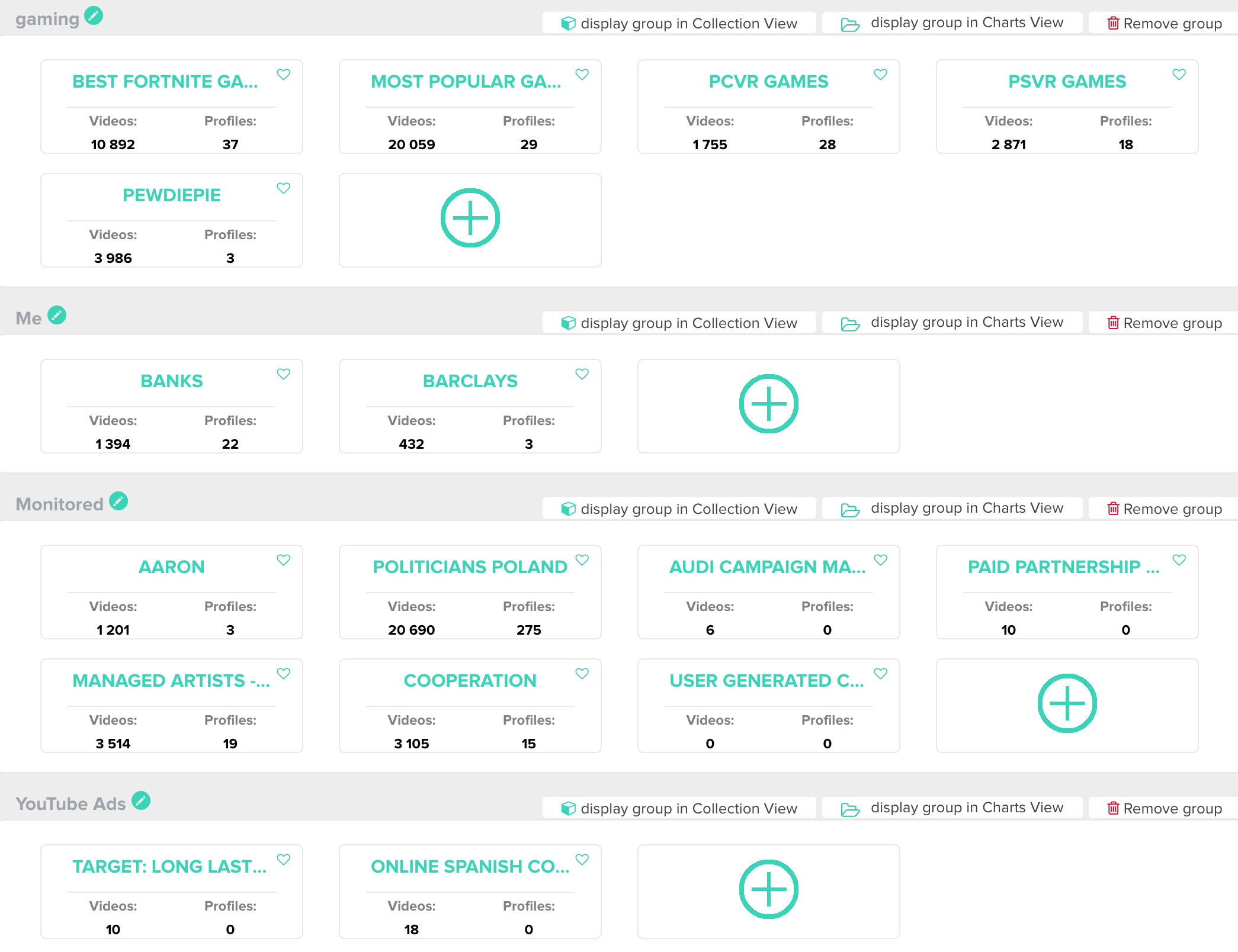 Folders can be easily joined, separated, moved across to other groups, or removed: you name it. It's all for you to have a clear insight on what's happening within the monitored niche.
Industry monitoring and talent hunting
Hunting for new talents is never ending in the Music and MCN industry.
Where do you look for upcoming creators that you could invite for cooperation? YouTube Trends? Great! This is a great source of new talents and content inspirations! Now imagine, that ViralStat creates such popularity rankings for YouTube, Instagram and Facebook too, so you can spot upcoming stars across all leading social media platforms within minutes.
Daily Leaderboards
Daily created leaderboards are charts of Top 100 the most popular creators, most viewed videos or even most engaging images & posts from Facebook, YouTube and Instagram. These will not only allow you to recognize the most trending creators on the globe, but also spot the hottest topics across these platforms in real time.
This will certainly keep you updated, what's hot right now before it gets old, learn which of your managed creators appear in the rankings, and give you the real opportunity to discover emerging social Influencers before anyone else!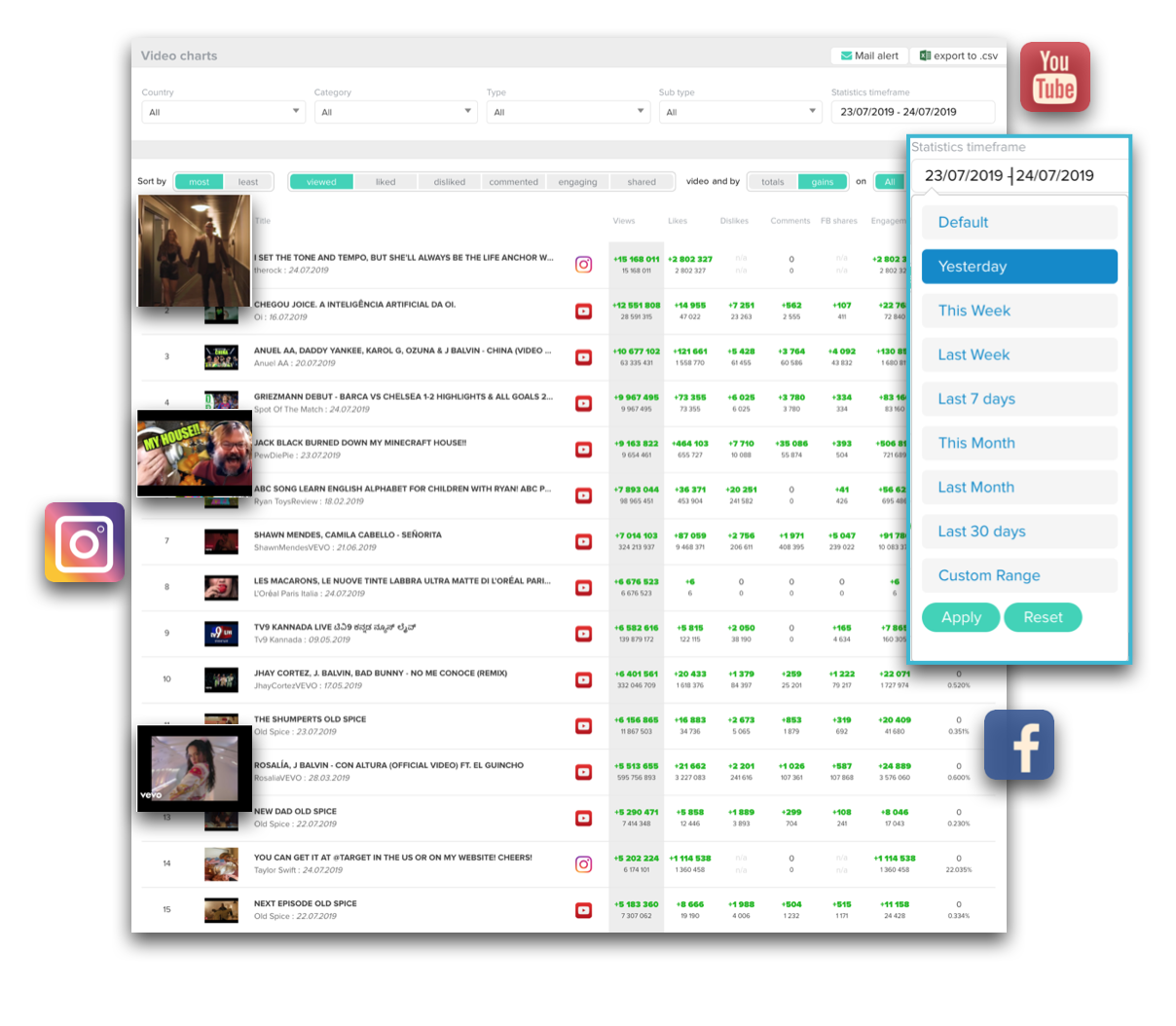 Learn more: Leaderboards
Discovery Tool
When it comes to hunting for upcoming Influencers or the most viral topics across dynamically changing social trends, there's yet another module you could rock it with: the Discovery tool.
Discovery enables you to research any industry by keywords and hashtags in search of creators or content inspirations. It also is a first place you should look up to detect recently uploaded videos and profiles, that have just been created, yet already grabbing enormous interest from the global audience.
Staying on top of cross-platform trends is a must if you want to keep your content fresh and amusing for your followers. Discovery allows you to catch hot topics and creators as soon as they emerged!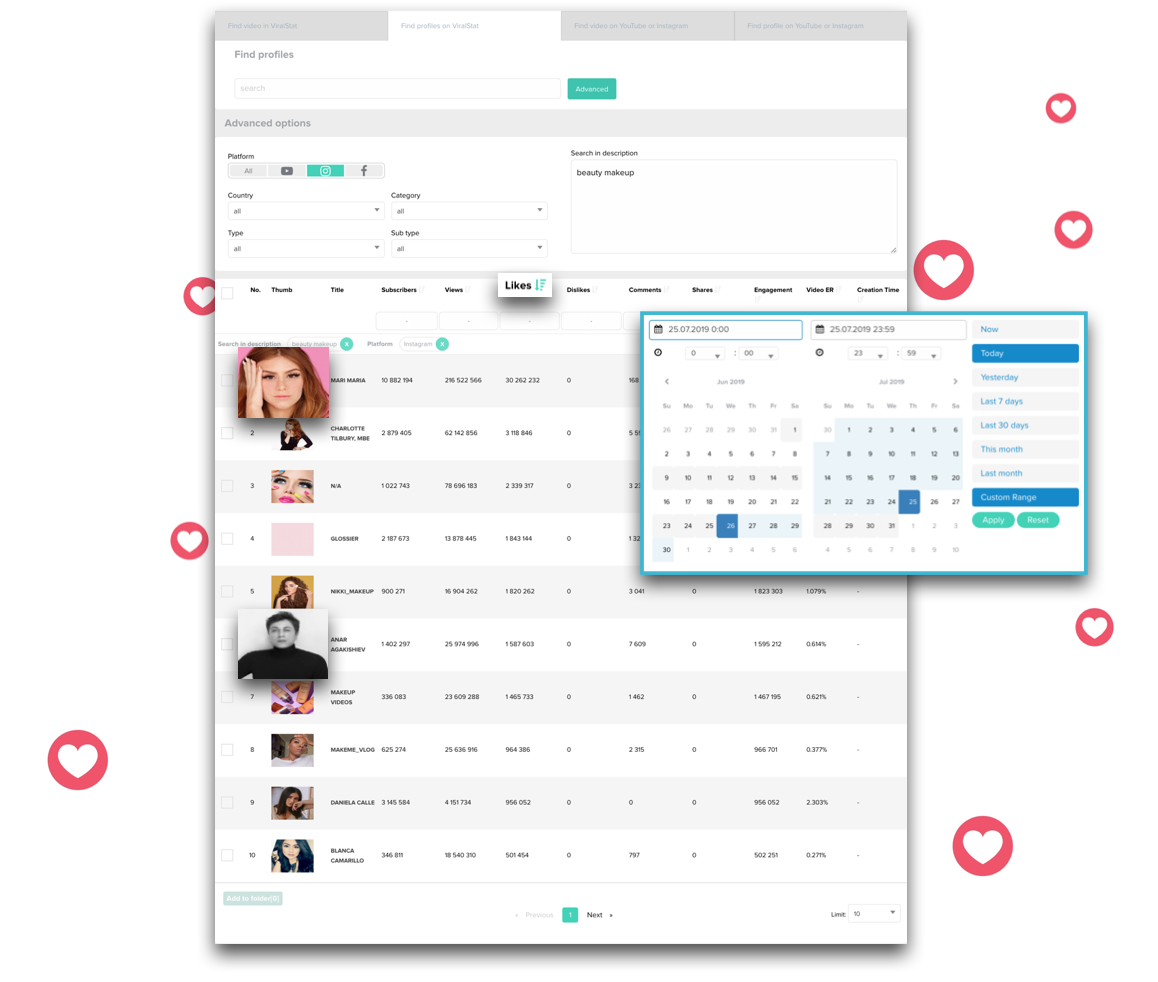 Learn more: Influencer Research and Content Discovery
Work smart, not hard!
ViralStat is a multi-functional video intelligence platform, that not only helps you organize your workspace and cut serious hours of your daily routine.
Its specially designed modules are essential when you want to stay updated with dynamic social trends and everything that happens in your monitored industry, discover upcoming creators and viral topics and deliver what your audience demands now!
Last but not least, it allows you to cooperate with your team, create transparent industry reports and verify reliable partners bringing real value to your company.
Are you ready to check, how ViralStat can optimize your every day workflow?
Go ahead and claim your 14 day Free Trial today!