TikTok Influencer Marketing is now the hottest trend. But has it always been that way? How to find TikTok Influencers?
TikTok – is there anyone who has not heard of it yet? Insane growth if this platform has been so all of sudden that creators there were not considered as real 'Influencers' for a long time. Who would take seriously a newbie who became famous only overnight? What's the warranty he won't disappear as quickly as he raised?
Marketers and brands struggled to put their trust in the cooperation with TikTokers simply because their popularity seemed too fragile and easy to fall.
Until recently.
Millions of engaged followers and the consistency of creators established TikTok as the most desirable social network to be on. It turned out that TikTokers can be as noteworthy and creative as other social Influencers when it comes to paid partnerships with brands. So no wonder that media agencies looked at the platform for the second time and willingly included TikTok marketing in their strategy.
It doesn't surprise anyone anymore that TikTok outreach can be better than on leading social media platforms!
Now the question is, how and where to look for TikTok Influencers or check out current TikTok popularity rankings?
Worry no longer: we've got you covered!
Find TikTok Influencers in seconds with ViralStat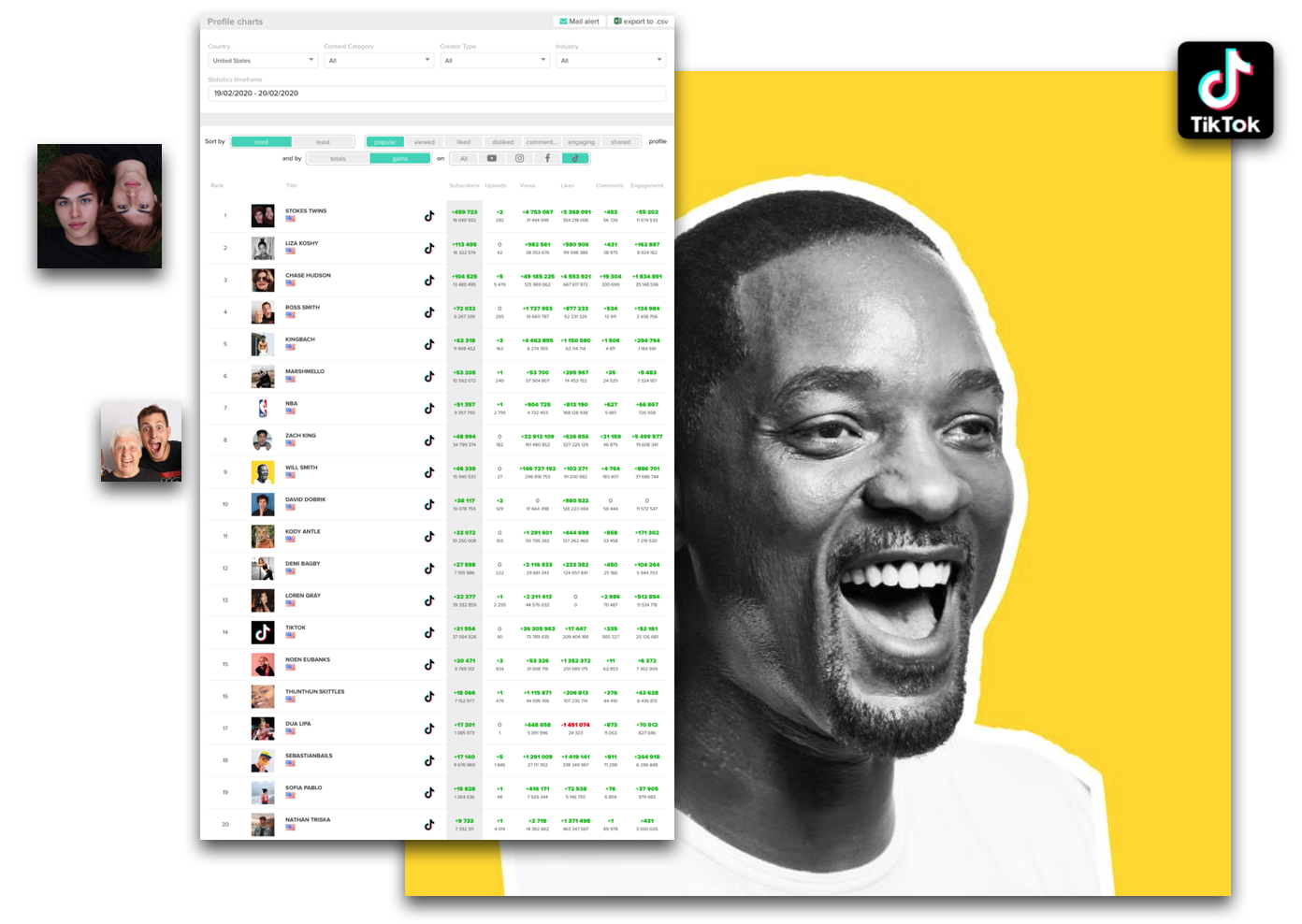 If you're looking for the TikTokers popularity charts, head to our Leaderboards and from social platforms we're covering, select TikTok. That's how simple it gets to access the most accurate TikTok Influencers rankings!
Are you looking for a particular country's creators? You can do that too just by switching to the country of choice from the list. This way, you can not only identify the most popular TikTokers from anywhere across the globe but also follow their further growth, access profile analytics and compare with one another.
Our Leaderboards are also a perfect place to uncover upcoming TikTok stars
If you're thinking to include TikTok marketing into your brand's strategy or want to grow your outreach on this fantastic platform, you have to stay up to date with newest trends and the hottest creators there.
Keeping up with the platform's dynamic can be challenging if you're doing that manually. Here you have it all in one place: TikTok creators rankings and their profiles overviews:
growth statistics: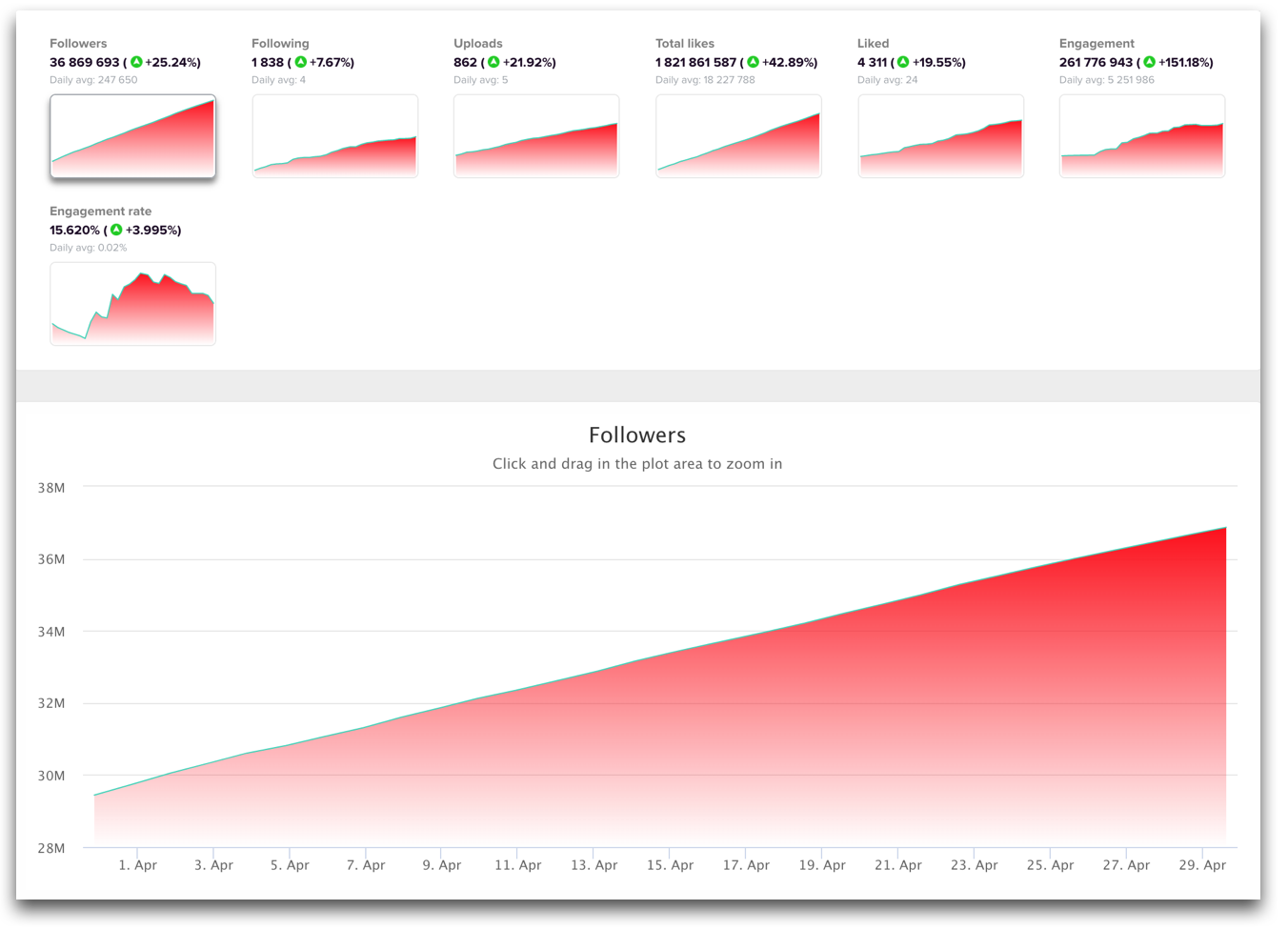 and video charts, where you can sort creator's videos by most viewed, liked or engaging: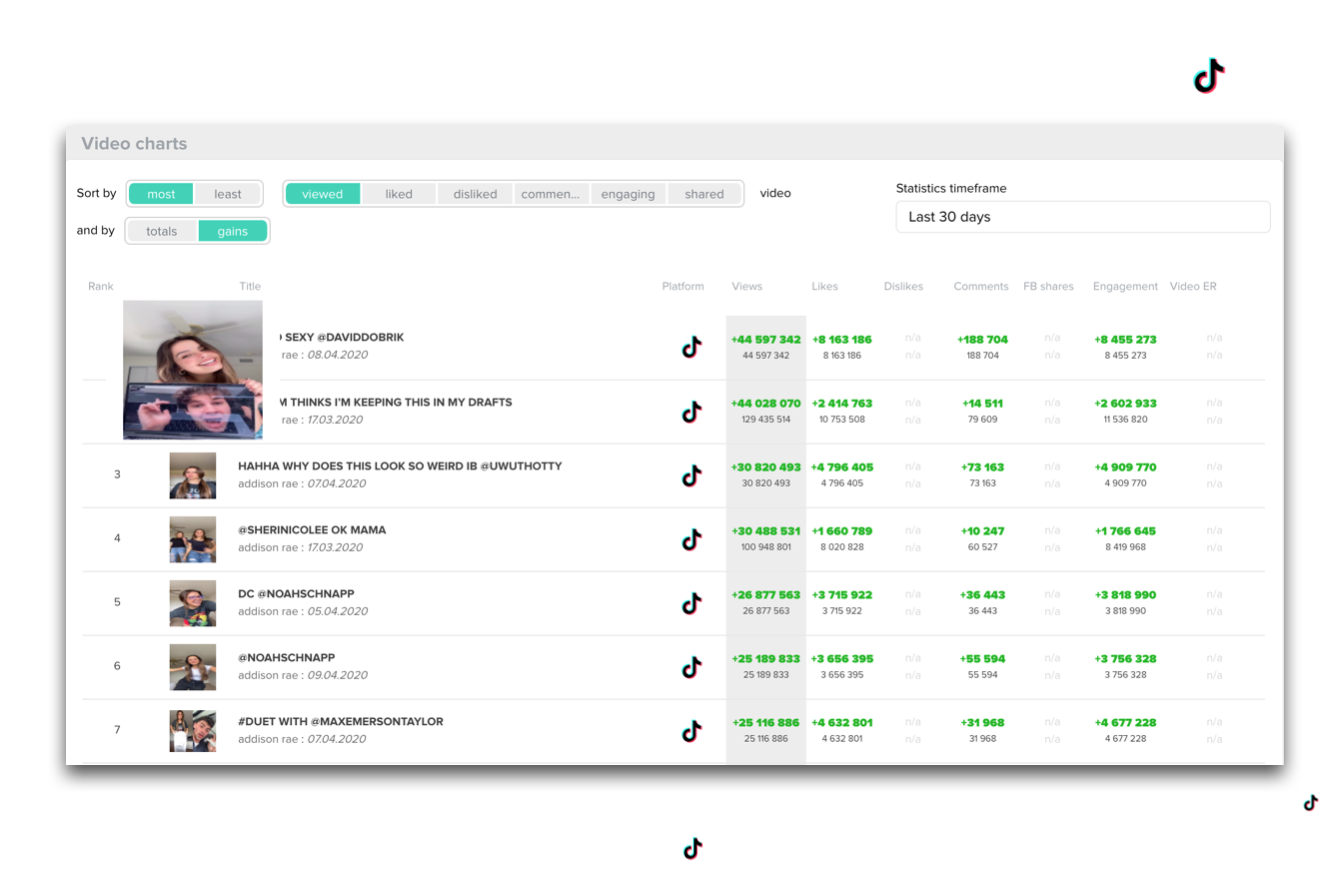 The future of TikTok Marketing
Despite the initial market resistance, TikTok Marketing is predicted to stay and grow even further, bringing the platform up to the more matured social engines' level.
Are you ready to hunt for the TikTok Influencers and the hottest trends?
Start from here: Influencers Leaderboards