What's the most popular Christmas song in 2018?
vs
We've all heard them! And we all know it's Christmas around the corner when they start to play'em in a radio. But have you ever wondered which of these timeless Christmas tunes gets the most attention during the holiday season? Think no more: we've got them compared!
December 2018
We've analyzed the period from 6th of December (when all that Christmas rush tends to overtake peoples minds) to New Year's Eve. So these are the cumulative gained results of both songs for December 2018 only:
128M Views
610k Likes
33k Comments
340k Facebook Shares
34k Dislikes (wait, what?)
See the exact statistics of both tunes at that time:

What's worth to mention, both channels lost over 10k Subscribers during that period overall. Hmm…
But which chart belongs to which song?
Let's focus on each song's performance then.
Wham 'Last Christmas'
This is the Views chart from of the selected time frame (06/12/18 – 31/12/18):

For a comparison only, this is how the video's chart looks like during the whole year: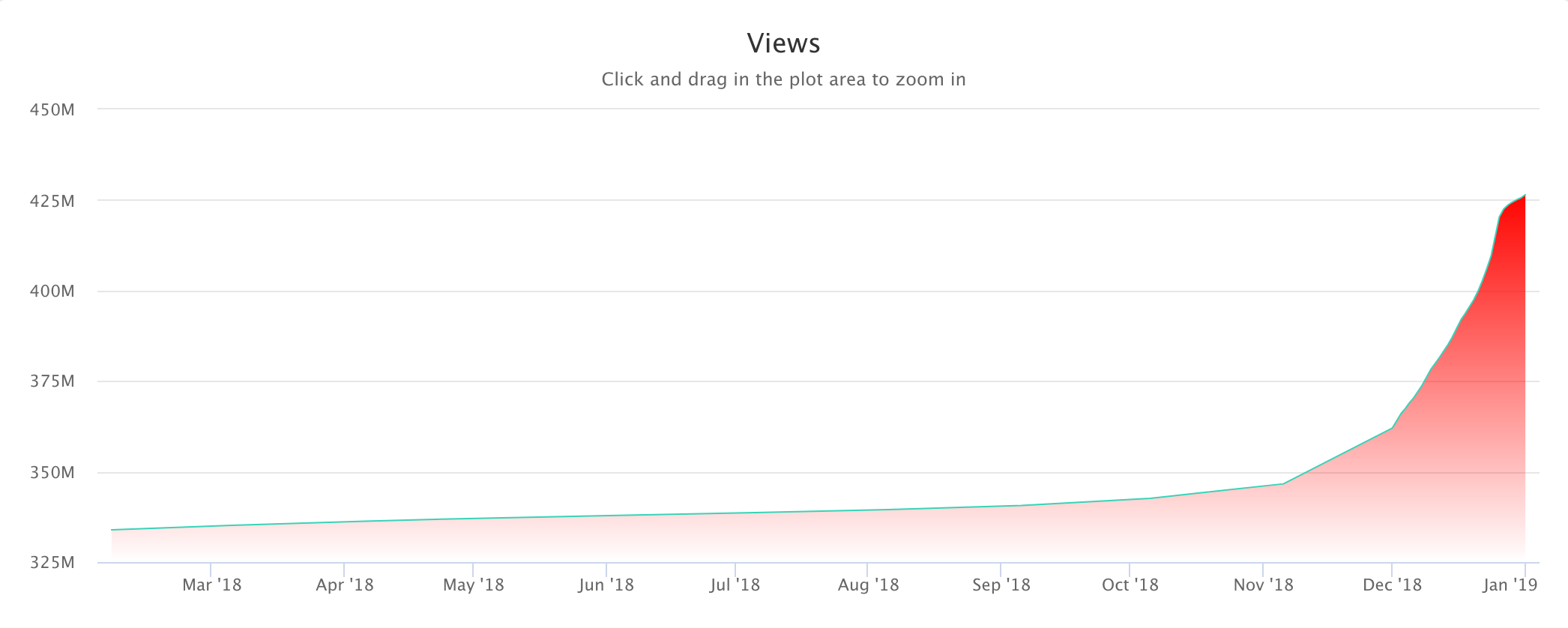 See the peak by the end of the year? This is the Christmas Spirit awakening 😉
But let's go back to actual results. The chart below shows the exact gain in engagement metrics of the 'Last Christmas' tune from the 6th to 31st of December 2018:
56M Views (over 2M average daily gain)
236K Likes (9K daily average)
13K Dislikes
11K Comments
– 1.6K Subscribers (average daily loss of 60 subs)
850K Facebook Reactions
176K Facebook Comments
190K Facebook Shares (on average over 7K shares daily!)
and so on

Quite impressive as for such an old banger? We shall move to the other contestant then:
Mariah Carey 'All I Want For Christmas Is You '
Views chart looks very similar to the previous one:

As well as the video's entire year's performance:

The peak at the end of the year is imposing yet again.
To see the differences between both songs performance we need to dig into the more accurate data from the video detailed statistics:

This is where the differences are exposed:
The 'All I want for Christmas is you' gains between the 6th and 31st of December 2018:
72M Views (2.8M daily average gain!)
380k Likes
20K Dislikes
22k Comments
– 9k Subscribers (oh no…)
522k Facebook Reactions
125K Facebook Comments
150K Facebook Shares
and so on
Summary
We believe you already guessed who won in this competition but to summarize let's have a look at the exact comparison of both songs on one chart:
Views chart:

At the highest peak, on Christmas Eve, 'All I want for Christmas is you' gained over 2.7M more views than 'Last Christmas'!
Likes chart:

Again, 'All I want for Christmas is you' gained over 18K likes more than 'Last Christmas' on 24th December only.
Dislikes chart:

It may be nothing to brag about, but again even in dislikes, as per 24th Dec, 'All I want for Christmas' defeated 'Last Christmas':
Mariah Carey – 2.3k Dislikes
Wham – 1.3k Dislikes
Last but not least, let's see the subscribers gain chart (or rather loss chart, remember? both channels lost over 10k Subs overall within the comparison time frame):
Subscribers chart:

On the 16th of December only, Mariah Carey channel lost 4k subs.
Overall channels comparison
This is how 2018 Christmas season affected the overall Mariah's channel statistics performance:

Wham's channel statistics within that period:

Contest results!
The statistics in the table show both songs results:

We have the Winner here:
Mariah Carey 'All I want for Christmas is you' gained over 16M views more than Wham's 'Last Christmas' song during the 2018 Christmas season! Congratulations!
See the exact stats yourself:
Mariah Carey – 'All I Want For Christmas Is You': https://viralstat.com/yt/yXQViqx6GMY
Wham! – 'Last Christmas' (Official Music Video): https://viralstat.com/yt/E8gmARGvPlI

Let's hear it one more time: