Today I'm going to show you some tips and tricks that may help you to increase watch time on your YouTube channel. Recently, I was helping one of my friends with the promotion of his video on YT and we were using some of them. As they took effect, now I would like to encourage you to try them.

Before we get into details, it would be good to first explain what exactly watch time is and why it is so important.
As YouTube representatives say: watch time is an overall time (in minutes) of watching your videos by users.
That seems easy to understand so I will get to the point now.
Why is it the watch time such an important metric on YouTube?
To be able to earn money on materials publicated on YouTube, each creator needs to be a member of YPP. In april 2017, YT creators set a threshold for the entrance to YouTube Partner Program (YPP) for at least 10 000 views. As they comment: "During last months we realised that we need to have higher standards".
Since 16 January 2018, to earn on videos updated on YT, creators have to fulfill two following requirements:
– 4000 hours of watching videos (watch time) during last 12 months on the channel
– and at least 1000 subscribers.
As we're already through with the theory, it's time for practice – tips & tricks that you can use yourself:
Content is the king.

That's what we all probably know, but in my opinion, no trick or tip will work if we don't have the most important thing. The essential theory shown in a clear way will let all of us increase our

watch time

on YT.

The title and the description of the video well prepared.

YouTube search engine is the second biggest one in the world so the good title and well prepared description will surely help your video to appear at the top of the search results list.

Tags

. The same tip as with the title and the description. The more often the video appears in search results, the more time there is spent on your videos.

The average watching time.

If we don't want users to run away from us, we have to offer them another video from our channel. How to do it properly? Go to your

YouTube Analytics

and find

Audience retention report

tab. Choose

Average view duration

option, check it and on the basis of this create the card.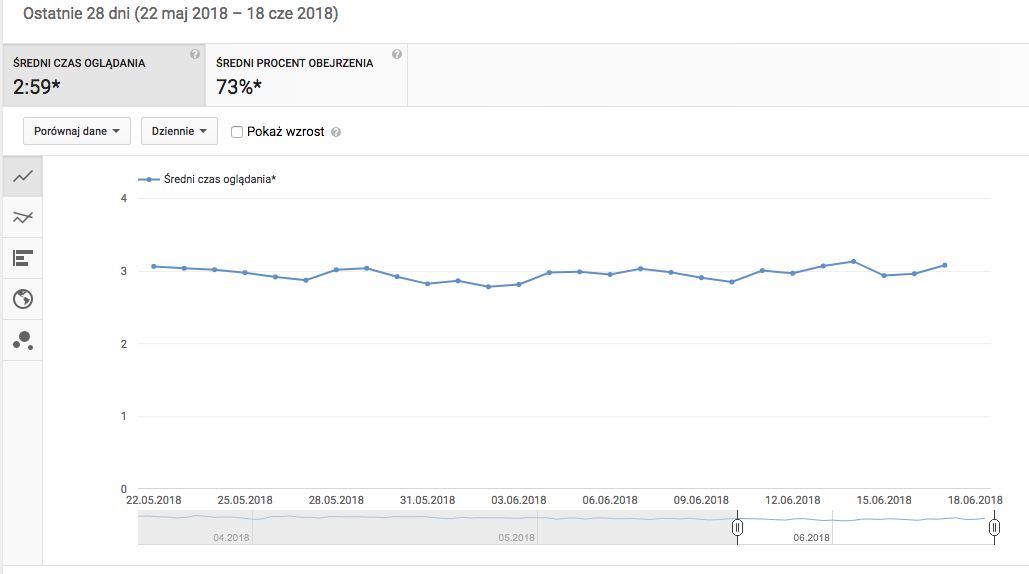 We see that the average view duration is 2:59 sec. We can assume then that this is the average time after which users tend to leave our channel. So now it's all downhill. We go to video edit and we add the card that encourages to view the next video. For example after 2:40 of duration of the video 🙂 You'll see it works. Watchers stay with us and our watch time increases.
Ending screen.

A lot of people just don't add any ending screen, though this is just another place where you can encourage the audience to see the next video from your channel. If the user is already there, at the last second of the video, it means that they enjoyed it. There's a big chance then that they will like to spend even more time watching our videos and that they will stay on our channel.

Subtitles. Are they important? If you're asking me, I would say that in case of videos where there's any knowledge passed, it's just a must have! Not everybody can see our material out loud for some reason (work/school/etc.) and that's the case where subtitles can really help to watch and understand video without making any noise! You can can put the info about subtitles in the title of the video, e.g.: TOP 10 Most Viewed Music Videos on YouTube [subtitles]
Theme playlists. One video can be part of many playlists. The same music video appears on various, e.g. Music for work, Music for running [150-165BPM], Daily Mix, Power Run, Pop rising, Brain food.

Create

longer materials

(10-15 minutes).

If it has a potential to make it longer, don't wait to do it. Just remember that it also has to be on a high level regarding a quality of its content. Nobody likes when you're making them lose their time.
These are I guess all of the tricks that I use myself. Maybe not each and every of them will work also for you, but I want you to try them yourself first. The effect may be surprising!